Venom Spirit is a cancelled action adventure that was in development for Super Nintendo around 1994 by the Pickford Bros, while they were working at Software Creations and after publishing their cult-classic Plok. The game was planned to use pre-rendered 3D graphics on the 16-Bit console, somehow similar to what Rare also did with their Donkey Kong Country series. While Venom Spirit was never officially announced by the company, many details about the project were shared online by John and Ste Pickford:
"This was just after we'd licensed our concept / game design for Plok to our employers Software Creations, and directed the development of the game internally for the SNES. We felt flushed with success, and Venom Spirit was going to be our 'follow up'. The game was completely unrelated to Plok, but it was a new character and an original game design for the SNES, which John and I worked on near constantly for about two years in our spare time.

We would have been ahead of our time if we'd been allowed to pursue John's idea of creating all the graphics as 3D models, then using renders of these in the game. […] We also did a hell of a lot of work on the game design itself. We planned a real big, Capcom style action adventure, somewhere between Super Metroid, MegaMan and Strider. We had all the levels laid out, characters and bosses designed, set pieces planned."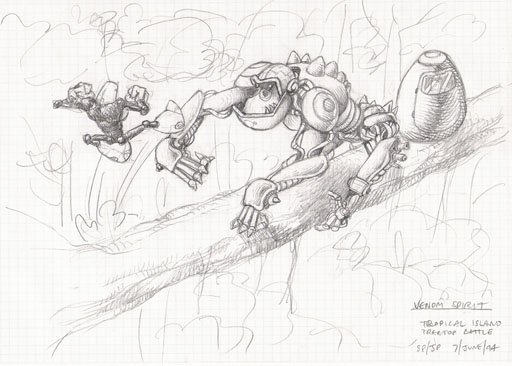 "Seeing Donkey Kong Country come out months later made us realise that we were on the right track. We had the ideas and we had the skills to make great video games, we just didn't have the opportunity.

We did the deal with Software Creations, and the game ended up in development briefly (with some cool tech too), but, as is so often the case with jobbing development studios, being paid to do movie license games is a much more attractive proposition than risking money making original IP, so the game was dropped in favour of a Cutthroat Island game for Acclaim (with the cool tech being used in that game instead), and Venom Spirit never happened."
Images:
What do you think about this unseen game? Give your vote!
Would you like to add more info, screens or videos to this page? Add a comment below!
(your first comment will be moderated before to be published)