Timber 64 is a cancelled 3D platform game that was rumored to be in development by Rare for the Nintendo 64, but it's existence was kinda unclear even by reading interviews with former rare developers (and some fans consider it an urban legend). When asked about Timber 64 some of them don't remember such a game ever being in development at the time, but others even describe a Timber 64 prototype demo they created. This contradiction between ex-RareWare employees may have been caused by how the studio was organized during the N64 era. Different Rare teams worked secretly in their own office, without knowing what the other teams were doing at the same time.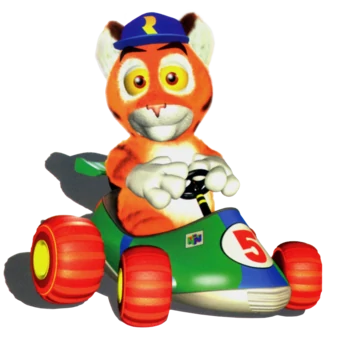 As we can read on Nintendo Life:
"Rare was famously secretive," Steve Mayles recalls, "and that included other games being made in the company. Many people on the team wouldn't have seen much (if anything) of DK64 and Conker."

"Rare's practice of separating teams across its infamous 'barns' naturally created some competition. "I'm not really sure we thought about that at the time," remembers lead environment artist Steven Hurst. "In those days each team worked in relative isolation and competed against each other to develop the 'best' games – a healthy rivalry if you like. I do remember actually that we changed BK to be more of a 'proper' 3D game (similar to Mario 64) after seeing the work that the Conker team were doing."
As you probably know Timber the Tiger was later seen in another Rare game: it's one of the playabler racers in Diddy Kong Racing. Originally Timber was meant to be the main protagonist of the game, when it was not using the Donkey Kong IP.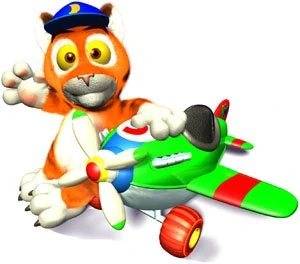 As we can read from an interview by NotEnoughShaders with Steve Ellis, Martin Wakeley and Lee Musgrave:
"NES: There was a rumor that Timber 64 was a game Rare was developing during the N64 days. Basically, the rumor was that Timber from Diddy Kong Racing would get his own game just like Banjo and Conker did. Pipsy and Bumper would co-star in Timber 64. Can you or Lee provide any details on this rumor? It's interesting because Diddy Kong Racing takes place on Timber Island so it seemed that Rare really liked the Timber character.

Martin Wakeley: I couldn't say for definite but I have no recollection of that ever being in development. Where the rumour may have started is that an early version of DKR (I think it was called RC Pro Am at the time) had Timber as the lead character. I'm sure I've got a badly fitting Nylon polo shirt with the game logo on it somewhere.

Lee Musgrave: There was never a Timber 64 game. Yes, there was Pro-Am64 that had Timber as the main character, but that became Diddy Kong Racing and that was the end of that."
In february 2021 Kev Bayliss wrote on VGC:
"After finishing work on Diddy Kong Racing in 1998, I started work on a project that was to become a 3D adventure game based in a fantasy style world, similar to that of Legend of Zelda: Ocarina of Time but in a prehistoric environment.

The main character was originally going to be – believe it or not – Timber, the cute tiger from Diddy Kong Racing. That's because he was intended to be the star of the previous year's racing game, when it was originally known as R.C. Pro-Am 64."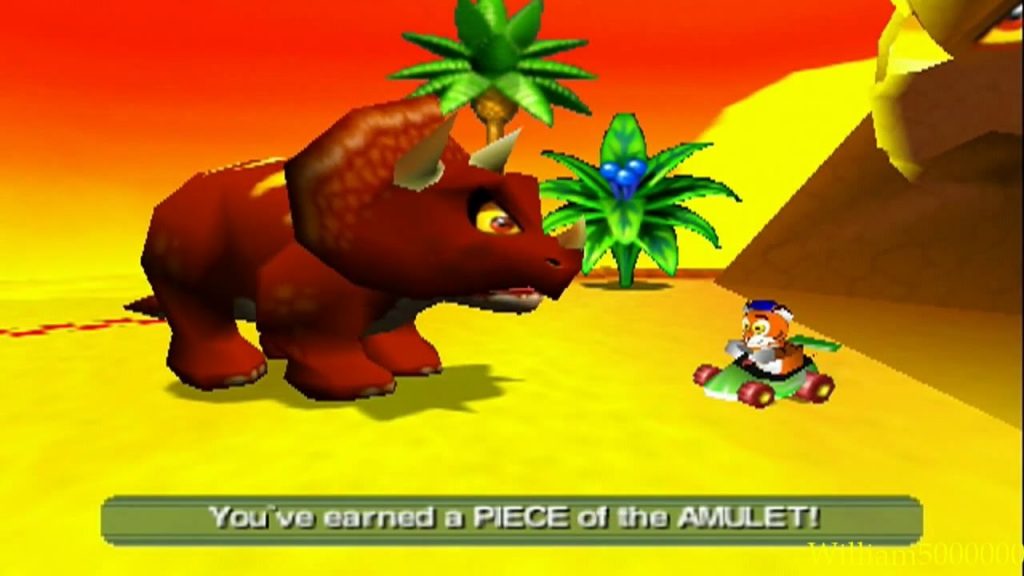 "In Dinosaur Planet, Timber was going to be a 'time-travelling tiger' with a rucksack, little fingerless gloves, a baseball cap and a small dinosaur for a sidekick.

Actually, I even tried out Timber in a project prior to DKR, where he walked around on all fours like a real tiger cub. It was an early 3D platforming test and I wanted him to use his claws to scale walls. But this project was abandoned and so he was moved into DKR and that's as far as his career went!

Now, if only somebody could dig up that really old demo with Timber in his rucksack…"
In the end not only Timber 64 was once a real concept in development at Rare, but it was kinda real for 2 different projects: there was a first Timber 64 3D platformer (then cancelled to create RC Pro Am 64 / DKR) and later a different Timber 64 3D action adventure (which later became Dinosaur Planet / Starfox Adventure).
These two Timber games for Nintendo 64 could have been mentioned to someone in the gaming press, and the rumors started circulating. As written by Bayliss, now we just have to wait for someone to find footage or even a playable version of those Timber 64 demos.
What do you think about this unseen game? Give your vote!
Would you like to add more info, screens or videos to this page? Add a comment below!
(your first comment will be moderated before to be published)