Robosaurus is a cancelled action game that was in development around 1992 by Adrenalin Entertainment and THQ (at the time known as "Toy Headquarters") for Super Nintendo. Players would take the role of a mechanical T-Rex to destroy cities and fight against aliens, tanks, helicopters and other military enemies. While there are not many more details about this lost game, it was mentioned in Nintendo Power Magazine issue 36, from May 1992:
"Speaking of HQs, thq (Toy Headquarters) has a line-up that  includes Swamp Thing (for all three Nintendo systems). Where's Waldo?, Family  Dog, Robosaurus, James Bond Jr. and this Pak Watchers favorite moose, Bullwinkle,  all for the Super NES. One-time Power editor and game guru, Howard Phillips, now  directs the creative projects for T.HQ. Will Waldo be wearing a bow tie? NOT!"
As noticed by Nintendo Metro and GDRI on Twitter, a single screenshot from Robosaurus was published in japanese magazine MicomBASIC, in August 1992: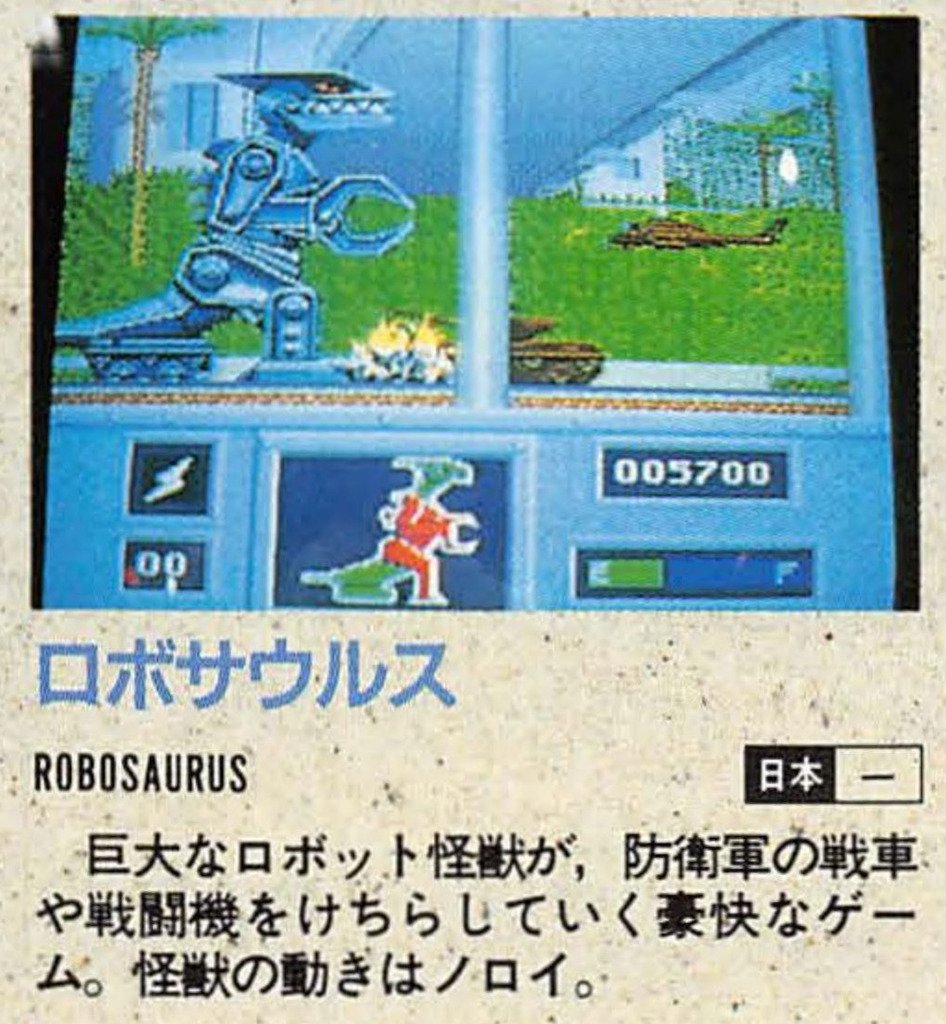 "ROBOSAURUS: 巨大なロボットほがが,巧が軍め戦車  やお關おをけちらしていく巧快なダー  ム。 巧がの動きはノロイ〇"
Two more screenshots were found by Gavin in another gaming magazine: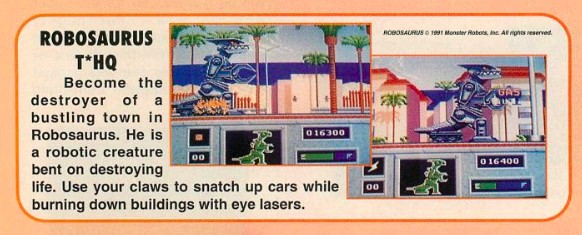 We can assume the game was based off the real-life Robosaurus, a transforming dinosaur robot created by inventor Doug Malewicki in 1989. As written by SNES Central, the game was possibly shown at the Winter and Summer 1992 CES shows:
"Aliens want to take over the world, and they're starting with Los Angeles. The one thing they didn't count on was Robosaur! Use Robo's giant metal jaws to munch enemies and fry the outposts with Robo's flame breath."
What do you think about this unseen game? Give your vote!
Would you like to add more info, screens or videos to this page? Add a comment below!
(your first comment will be moderated before to be published)