Mars Adventure (AKA "Saturn3054: The Titan Rescue") is a cancelled action game that was in development around 1994 – 1995 by Sony Imagesoft, planned to be one of their first in-house projects for the original PlayStation. In 1994 Playstation hardware was still a prototype: all of the documentation was in Japanese and 3D console games were something new and hard to develop. Mars Adventure was an eleven-person team project and their first 3D game: unfortunately they were not able to complete it.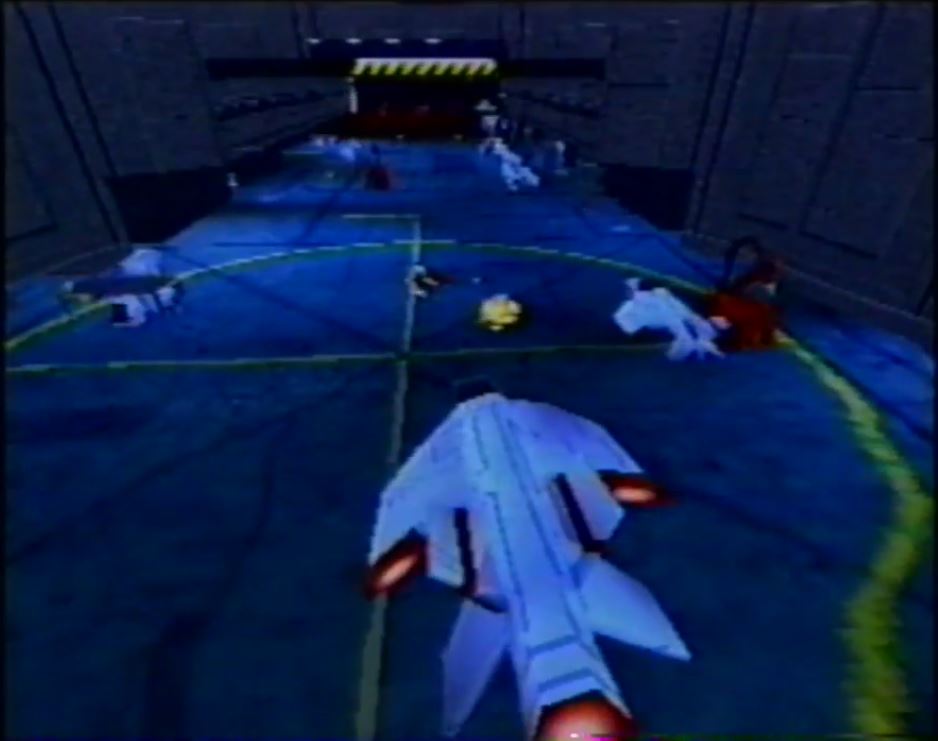 Gameplay was inspired by classic Choplifter and it would have been a first / third person, 360° flying game: you can imagine it somehow similar to Descent or G-Police, but its main mission was saving people from aliens. As we can read on Kyle Rode's website:
"Since I was the only actual game player on the team, I quickly took control of the game design task, and I started to write up the game design document.  At this point, the original Doom was the only game on the market that had any similarity to a 3D game, and it was actually a 2-1/2 D game, at that.  Later, during development, Descent came out, and it was  similar to what we were trying to accomplish.

The basic premise of "Mars…" was "Choplifter/(Fort Apocalypse)" on Mars or Titan or whatever.  The player flew a spaceship around a space colony on Mars, and would rescue the people from the alien invaders.  The spaceship would have a close proximity teleporter, which would suck them up into the ship's cargo hold.  The close proximity was the reason why the space marines couldn't just do it from the mothership ala Star Trek.

I liked the idea of rescuing people as the main focus of the game play, instead of shooting up baddies. The act of rescuing would require that the ship stay motionless for a short period of time, while the transport occurred.  This would open the player up to danger from the aliens.  Also, when shooting up an environment, if you weren't careful, there was always the chance that you might kill some good guys in addition to the aliens.

Unfortunately, the Playstation development kits that we received from Sony corporate in Japan, were a couple of months late, and the documentation was in Japanese.  We even received the dev kits after third-party developers outside of Sony.  Also, the Japanese documentation made them pretty worthless."
By looking at prototype footage from the game it would have been quite amazing for its time, with huge levels where you could fly in every direction and fluid 3D graphics.
Thanks to RareAlone for the contribution!
Images:
Videos:
What do you think about this unseen game? Give your vote!
Would you like to add more info, screens or videos to this page? Add a comment below!
(your first comment will be moderated before to be published)