DeVargas is a cancelled action adventure that was in development by Capcom Production Studio 8 for Playstation 2. The team is mostly known for their work on the Maximo series, Final Fight Revenge and Final Fight: Streetwise, but they also worked on some fascinating lost projects.
Studio 8 was full of talented devs and artists: after publishing Maximo 2 they started working on 3 interesting pitches: Maximo 3, DeVargas and Final Fight: Seven Sons (the unreleased FF planned before Final Fight: Streetwise). While for Maximo 3 and Final Fight: Seven Sons some footage and concept art were already preserved, DeVargas remained unseen until Trent Kaniuga (former Studio 8 artist) shared one image on Twitter: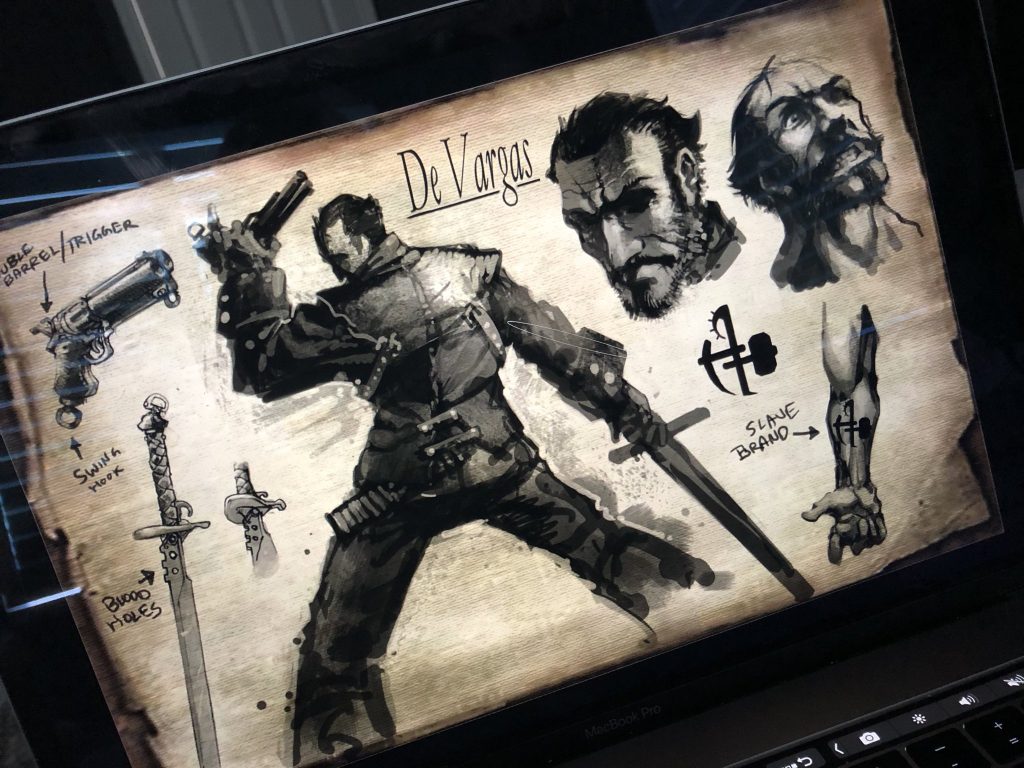 We were able to gather some details about this canned project in 2015, while we were doing research for our book. Maximo 3 and DeVargas were in development using a similar code, so their early prototypes shared a few assets and models. While Maximo had a broader audience thanks to its character design, DeVargas was conceived as a more mature project, with a more realistic art-style.
The game setting was somehow similar to Assassin's Creed. The main protagonist was a prisoner on ship and in the prototype you woke up in shackles. Your main objective was to escape using stealth: the boat interior was dark and the men on it had lanterns, so you could sneak up behind them and choke them with his chains.
This was just an early idea for the first level, but after it the game would open up, being more about exploration and melee combat. DeVargas was worked on for just 3 – 4 months before Keiji Inafune decided to cancel it.
In the end, only Final Fight: Streetwise was greenlighted by Capcom, but when released it failed to achieve mainstream success and it bombed in sales. Capcom decided to not invest in their California team anymore and sadly Production Studio 8 was closed down in 2006.
At the moment only a single concept art remains to preserve the existence of DeVargas, but you can keep an eye on Trent Kaniuga's Twitter profile and Youtube Channel to see if he could find more in the future.
What do you think about this unseen game? Give your vote!
Would you like to add more info, screens or videos to this page? Add a comment below!
(your first comment will be moderated before to be published)