Alien Alliance is a cancelled sci-fi / space combat game that was in development by Orbital Studios around 1995, planned to be published by Virgin for Playstation and PC. As we can read in an old issue of Computer Gaming World magazine:
"In addition, Virgin and Orbital Studios will present a space game called Alien Alliance that could surprise a lot of gamers. It is a  space combat game in the X-wing and Wing Commander traditions, but it has a much more robust structure to it. Gamers will work their way up through the  ranks of a space navy, starting with wingman and working up to fleet commander. Each stage will give the player more power to direct the war as they see fit.
In Electronic Entertainment magazine (December 1995) we can also read:
"Virgin's Orbital Studios is hard at work on an exciting strategy and space simulation game called Alien Alliance for DOS CD-ROM, due by the end of the year. The game  features strong graphics, two different terrain engines, and the ability to graduate from wingman to fleet commander in an intriguing conflict between several alien races."
A couple of screenshots were found by Youlute in CD Consoles magazine (issue 10, September 1995). The game seems to have been later reworked and released as a PC-exclusive under the name "Forced Alliance" in 1997.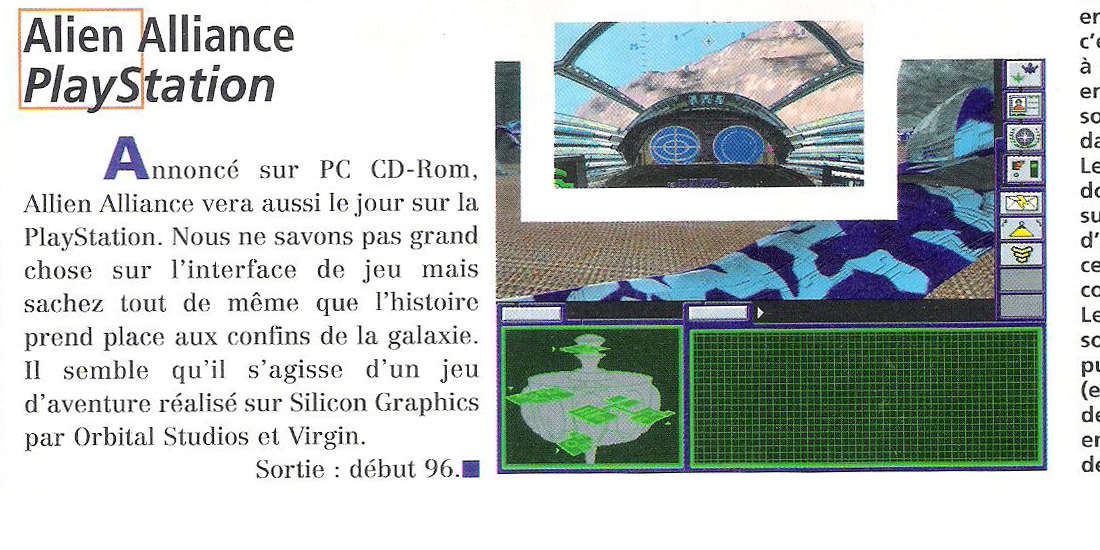 What do you think about this unseen game? Give your vote!
Would you like to add more info, screens or videos to this page? Add a comment below!
(your first comment will be moderated before to be published)