Flux is a cancelled action adventure that was in development by forgotten team Eight Cylinder Studios, planned to be published for Nintendo GameCube and PC (by Microsoft?). Eight Cylinder survived in the gaming market for just about 2 – 3 years, between 1998 and 2001.
As far as we know they never released any of their games. Few details about the existence of their Flux project can still be found online, on Mobygames' profile for Franck De Girolami (Eight Cylinder founder) and in an old website for Dark Reigns 2, as Adam Marquis (now at Naugthy Dog) also worked at Eight Cylinder before joining Pandemic Studios. On Next Generation Magazine (issue 40, April 1998) they also published a short update about them:
"Eight  Cylinder Studios, remains hard at work on the tentatively titled  Flux, a 3D action / platform game, which according to one employee,  will be the first game to offer "varying planes of gravity." As of press time, Eight Cylinder had not  announced a new publisher for Flux but was courting several larger, unnamed companies with strong distribution channels."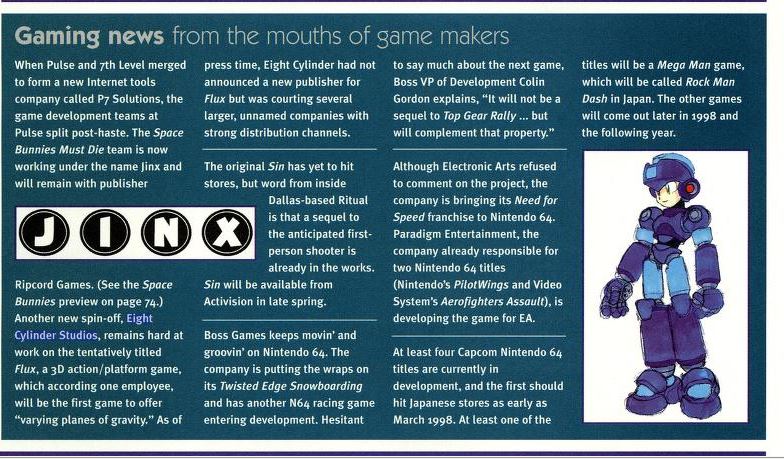 We were also able to save a short description about the project and some concept tiny art from a (now offline) website of another former developer:
"FLUX Gamecube, Action Adventure, Eight Cylinder Studios / Microsoft (unreleased). A unique mechanic where the player rotates the world along 3-axis in order to move through it, and to control the action.  I envisioned architecture that was built at different orientations; out of it came irony, humor and contradiction: guard towers became bridges that spanned divides, water mills became waterfalls that caused floods, and slums turned sideways dumping all their 'stuff' into the world, into this I folded themed zones that carried the narrative, mechanic, and pacing of the game.  These are only the initial sketches – art bible and screendumps were destroyed"

We can assume the team was not able to find a publisher to keep funding their project and had to close down. If you know someone who worked at Eight Cylinder Studios and could help us to know more about what happened to Flux, please let us know!
What do you think about this unseen game? Give your vote!
Would you like to add more info, screens or videos to this page? Add a comment below!
(your first comment will be moderated before to be published)