Outworld 2375 AD is a cancelled Sega Mega Drive / Genesis racing game that was in development around 1993. A single screenshot was published in Sega Visions magazine (Issue 15), where they wrote it was being developed as one of the games with Heartbeat Personal Trainer support.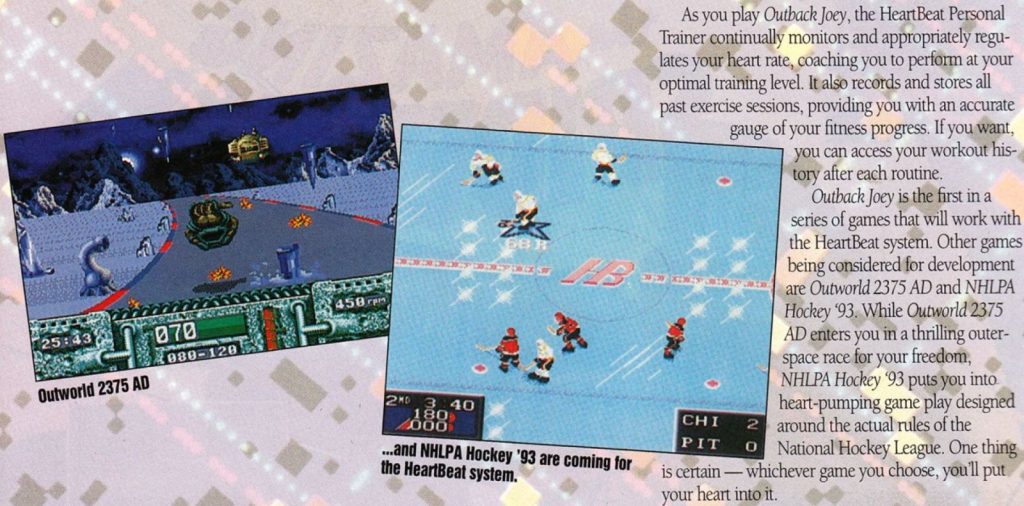 "Outworld 2375 AD enters you in a thrilling outer-space race for your freedom"
As we can read on Sega Retro, the Heartbeat Personal Trainer is a rare variation of the Sega Mega Drive, released in 1993:
"[…] came bundled with exercise software and motion sensors which are only compatible with this unit. A sensor can be connected to the unit which monitors the user's heartbeat, which in turn controls the speed of an on-screen Kangaroo (Joey), the aim being to keep your heartbeat at a certain rate by exercising. Other sensors can detect movement, and past exercise history can be saved and compared with others […] Though not a requirement, the unit was designed to be used in conjunction with exercise equipment, e.g. treadmills, exercise bikes, etc."
Using the Heartbeat Personal Trainer features they could implement motion controls and let people to exercise while playing. We can assume in Outworld 2375 AD you could have been able to run on your treadmill or exercise bike to move your vehicle in the game.
A trademark for "OUT WORLD 2375 AD" was filed in 1993 and abandoned in 1995:
"video game programs sold in the form of cartridges and cassettes. Games and playthings; gymnastic and sporting articles not included in other classes; decorations for Christmas trees."
A collector on Nintendo Age also found some promotional reversal films with more images from this lost game. By reading the same topic, it seems another collector may own a Outworld 2375 AD prototype, so we can hope to see more from it in the future.
Thanks to Youloute for the contribution!
Images:
What do you think about this unseen game? Give your vote!
Would you like to add more info, screens or videos to this page? Add a comment below!
(your first comment will be moderated before to be published)