Dark Matter is a cancelled space combat simulator that was in development for PC by a forgotten team known as "Nanotainment" around the late '90s. It seems the game was shown in playable form at E3 1999 & 2000, but only a few websites wrote about it at the time.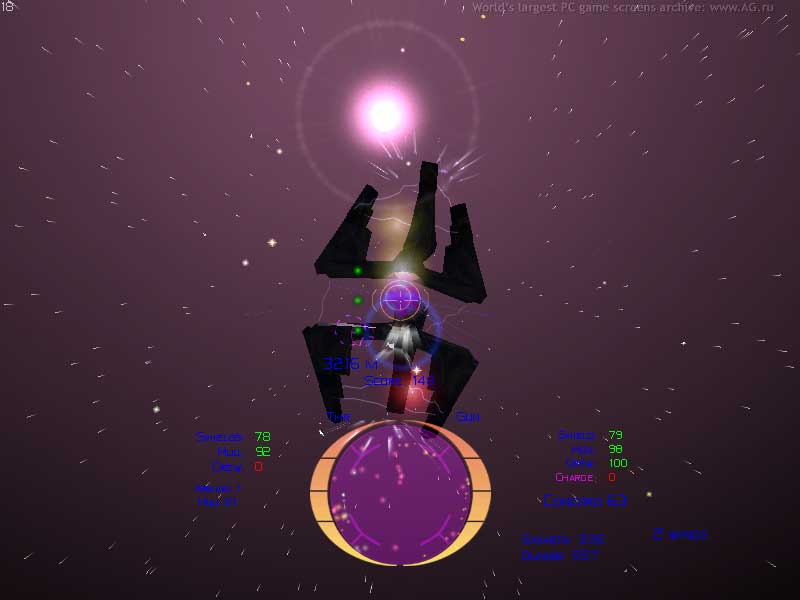 From the old Nanotainment website we can read some more details about the ambitious concept they planned for their project:
"Dark Matter offers a new paradigm in space combat sims. Whereas before one was restricted to a single ship and battles of limited size, Dark Matter offers you the chance to pilot any of the hundreds of ships in a battle at any time. Couple this with fast paced arcade action, 8 different species with different ship types and abilities, dynamic environments, and dramatic scale, and you get the amazing game play of Dark Matter. You can play the game any way you want, from pure arcade simulation to detailed tactical control, it's up to you. Dark Matter, a new game for the next age."
Large Scale Combat: Hundreds of ships fighting all at once.
Massive Scale: From 10m long fighters to 4km long capital ships.
Fight as one of 8 species, each with different abilities and characteristics.
Fast paced, frenzied engagements.
Access to all ships on your side: Fight as a lowly fighter, patrolling corvette or titanic capital ship.
Give ship-level commands and species-wide orders.
Over 40 spacecraft you can pilot.
Campaign and a single battle mode.
Play the way you want: Play as an action game or a strategy game.
Arcade or simulation flight models.
Intense Environments: Fight in an asteroid field, minefield, or nebula. Or near a black hole.
Dynamic Environment: Watch asteroids split into smaller asteroids.
Alien Artifacts: Find ancient alien artifacts that may turn the tide of the battle.
Genetic AI: Learning opponents that develop unique strategies.
Tradable AI: Trade your specific AI with your friends."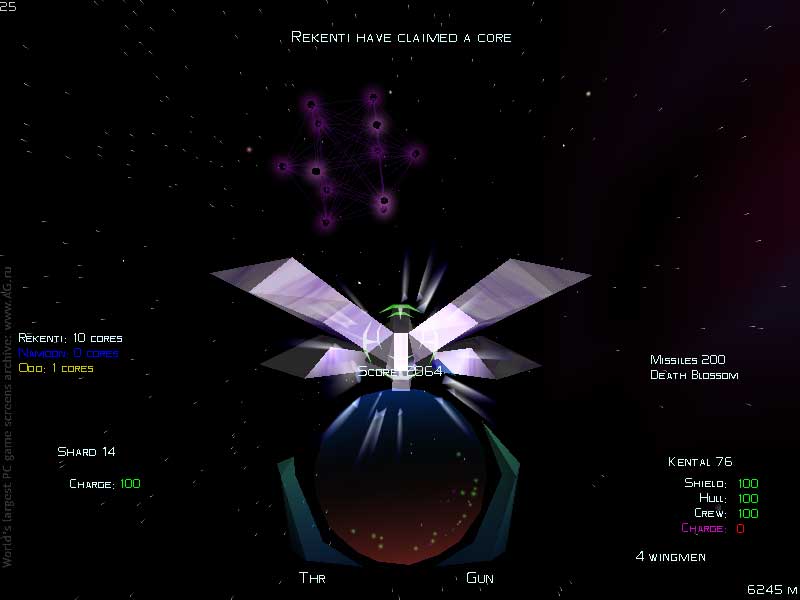 Thanks to the web archive we can also read an old interview with Nanotainment published by Glide Underground:
"1.) Thanks for taking time out to answer these questions, first off what is the coolest feature that is planned in the full release?

Bob: The coolest feature of the game is its perspective: you are a species instead of a single pilot. This feature gives you access to all the ships in your fleet which gives you quick access to the action (by switching to a ship on the front line) and access to the overall strategy (by switching to a capital ship). It also extends play. You're not done until your whole fleet is toast.

Chad: I think that probably the most unique feature is the ability to switch to any ship on your side of the battle. You will never have to wait to come back in to the battle, another ship will always be at your finger tips.

2.) How do you see this game competing against other games like Descent Freespace 2 which is also very similar and going to be released around the same time?

Chad: I don't really see us in the same arena with Freespace 2. Yes we are both space sims, but our game has a definite arcade bent to it. We are intentionally keeping the mechanics of the game simple and instead of having a complex story line (as most space games have) which forces you into a single character, we are concentrating on variety of both the ships you can pilot, their abilities, space born hazards and other interesting effects. In Dark Matter, you will have access to any ship on your side, further separating us from the "adventure" game genre. Our game plays out at a much quicker, more furious pace than the average space sim.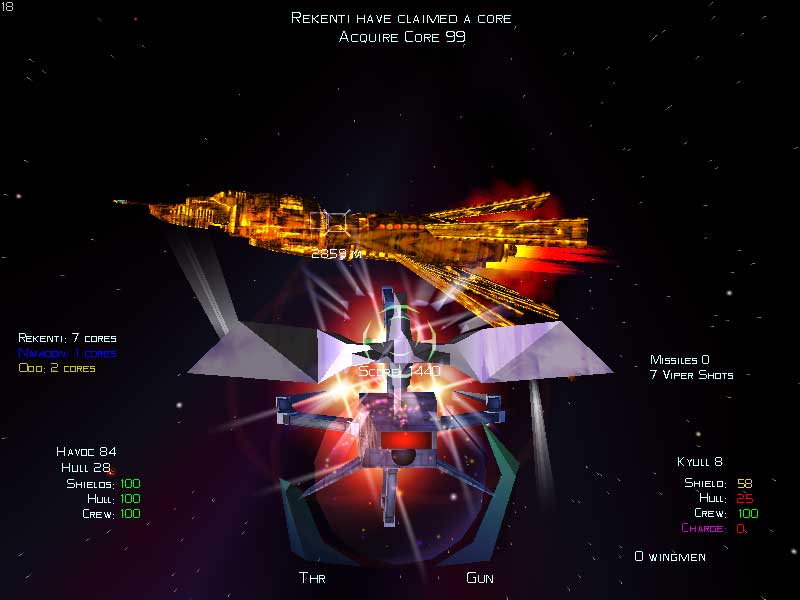 3.) What type of single player features will be very prominent in the single player game?

Bob: Our learning AI will be at the forefront of the single-player game. As you get better at Dark Matter, the AI will grow to match you. Since our learning AI is based on genetic algorithms, each AI data set will be unique to the game play that created it. As an added feature, players will be able to trade their AI data so that their friends can see the different techniques and strategies that have evolved.

Chad: The game is functionally the same single or multi player. You have access to the same controls and game types (flag arena, xenocide, etc.), but we are also including a campaign mission set. Most of these missions are structured to teach you the basics of playing that species. Basic strategies and tactics which you can then take on to a multi player game. You can probably expect a lot of low key humor sprucing up the campaign missions.

4.) Will the game feature a very good story line as the single player game progresses on?

Story is really very slim in the game. Each campaign will have a simple story based around an overall theme, but as far as first person character or melodrama is concerned we decided against it. We wanted to do something a little different, thus went with breadth over depth.

5.) How will the multi-player game be interfaced, like how many players supported, what method of connecting players together?

We support all connection types that DirectPlay, which is to say everything. We are looking at getting a gamespy or mplayer interface for games on the internet, so you can probably expect one or the other in the final release. The games are easy to set up, but still gives the players a lot of options. From game types to species and loadout selections. We currently support 32 player in a peer to peer network scheme, but if interest is high enough we could go to a client/server system which would support many more players.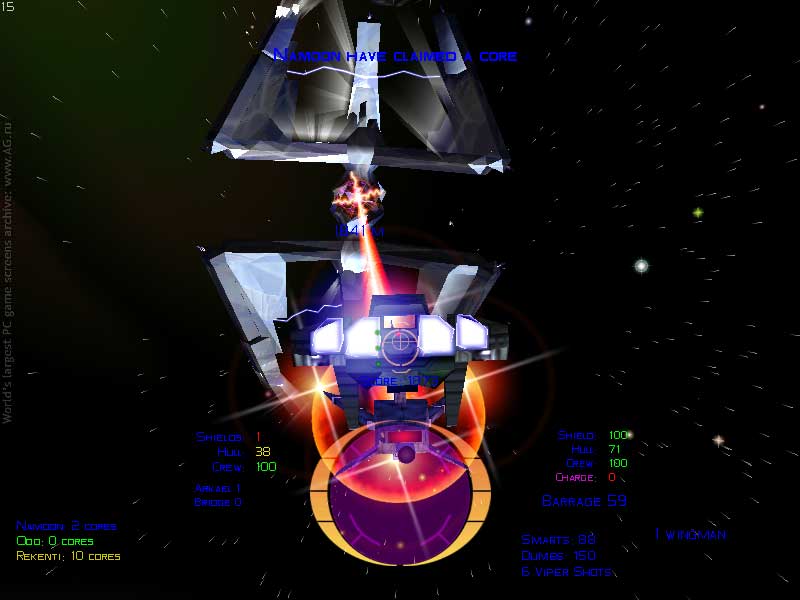 7.) What species is the best and why?

Bob: We are striving to make all the species different yet equal with the appropriate strategy. Some species will have advantages over others but on the whole no species will be the best. Kind of like Rock-Paper-Scissors.

Chad: We have tried to balance the species as best as possible. I will give you a little brief on their specific attributes:

Namoon: Pissed off space monkeys. They are the basic species in the game. Most of their technology centers around missile and anti-missile weaponry.

Graawol: The most primitive race in the game. These guys may not have the finesse of other species, but they more than make up for it in brute force. The have gattling style guns and a mean-ass ramming attack as well as marines which they can use to infiltrate and neutralize enemy corvettes and capital ships.

Ood: The Ood are a race of neurotic, paranoid aliens. They have electronic-counter-measures and a powerful force blast, but being the neurotic race that they are, they have equipped each of their fighters with a kamikaze device. This device will turn the fighter into a rocketing comet. Very devastating to enemy capital ships.

Rekenti: The rekenti are a race of silicon and crystalline based beings. Most of their technology centers around their lightning gun and tractor beam. They are also the race with the Ship Killer.

Machina: What would a space game be without a machine race. The Machina technology centers around, EMP and electronic control weaponry. They are also immune to psychic attacks, because of their machine nature.

Bloom: The Bloom are a strange race from a gas giant. All of their ships are organic based, and all of their weapons are organically created. They have a corrosive liquid projectile which does huge damage to metallic hulls.

Vander: The vander are a race of space gypsies. All of their technology is pirated from other races. Their technology is the most varied, from plasma torpedoes to reflective shields.

Shodikan: The shodikan are the most mysterious race in the game. Their technology is based around cloaking and psychic technology.

9.) Will single player games be mission objective based or will they just be fire at them and destroy all type missions?

We do not have standard space game objectives. Our games are more like first-person shooters in their implementation. Currently we have three game types:

Genocide: Kill all the enemy.
Flag Arena: Capture and hold all the flags in the arena for a certain time duration to win.
Territories: Capture and hold 75% of stationary buoys for a certain time duration to win."
By looking at how the Dark Matter fact-sheets changed year after year on Nanotainment's website, we can see the scope of their game was cut, removing 2 playable species and the size of spaceships from 4 km to 2 km. At some point in late 2000, the company vanished with no traces, with Dark Matter cancelled and lost forever.
We don't know how much of the game was done before the cancellation, but it was at least playable to be featured at E3, so we can hope one day a demo could be found and shared online. It's interesting to notice that Nanotainment also worked on another forgotten project titled "Fly Hunter", that seems to have been published in 1998 and you can download a playable version on Archive.org
Thanks to Sean Paul for the contribution!
Images:
What do you think about this unseen game? Give your vote!
Would you like to add more info, screens or videos to this page? Add a comment below!
(your first comment will be moderated before to be published)