We are happy to announce 3 eBooks taken from our "Video Games You Will Never Play" physical book are featured in the latest eBook bundle by Story Bundle! Our "PS2 & Xbox Video Games You Will Never Play", "GameCube Video Games You Will Never Play" and "Dreamcast Video Games You Will Never Play" can be found in this bundle in their exclusive ePub and Mobi versions (our full book is available in physical form on Amazon and in PDF on Patreon), so you can easily read them in your eBook reader.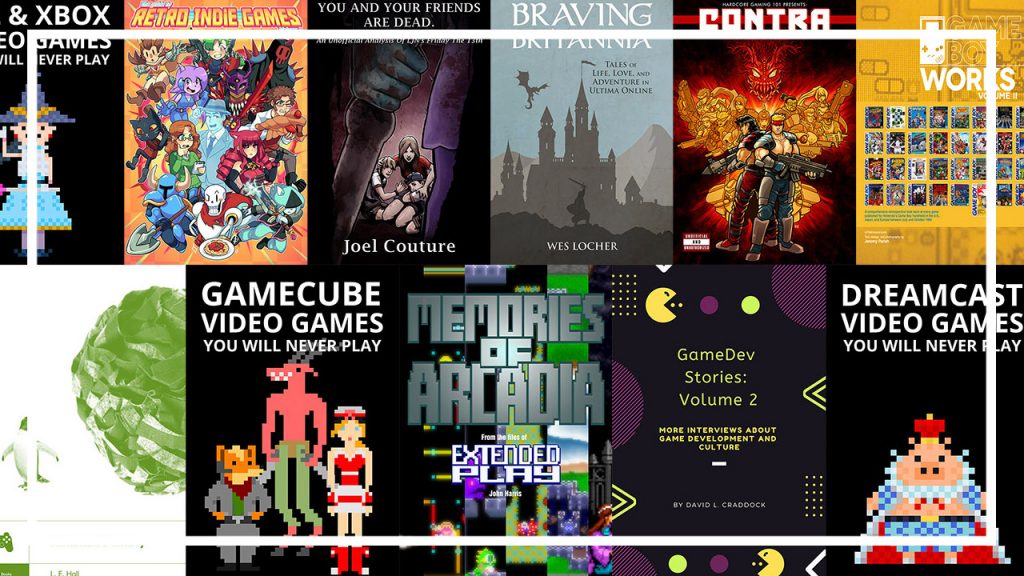 In the same bundle you can also find many interesting eBooks about less known video games and their history, such as Game Boy Works by Jeremy Parish, The Guide to Retro Indie Games by Kurt Kalata, GameDev Stories by David L. Craddock, Katamari Damacy by L. E. Hall!
Funds raised with this eBook bundle will support Unseen64, the other books authors and you can also choose to donate 10% to The Video Game History Foundation, a non-profit foundation founded by Frank Cifaldi, which primary aim is the archival, preservation, and dissemination of historical media related to video games.
Here's the full description, for more details check https://storybundle.com/games
The weather outside may be frightful, but StoryBundle's Spring Fired-Up Bundle offers 13 books – our biggest collection yet! – about gaming culture and development to melt your winter doldrums, available for a limited time on www.storybundle.com.

David L. Craddock delves even deeper into randomly generated dungeons in Dungeon Hacks: Expanded Edition, which provides an extensive look at the making of early roguelike RPGs as well as a new interview with Rogue's co-creators and three extra books on games influenced by the genre. In GameDev Stories; Volume 2, Craddock curates 13 interviews from the hundreds of hours of conversations he's had with developers of games spanning InFamous and Prototype to Diablo and Hack.

Journalist and prolific Nintendo historian Jeremy Parish maps out two years of classic Game Boy games with Game Boy Works Volume 1 and Game Boy Works Volume 2, covering beloved and more obscure titles such as Alleyway, Pipe Dream, and Boomer's Adventure in ASMIK World.

Alongside those four DRM-free eBooks, John Harris collects write-ups of arcade games curated from his Extended Play indie mag, Boss Fight Books author Laura E. Hall rolls through the history of Katamari Damacy, journalist Wes Locher explores the community around enduring MMO classic Ultima Online, Hardcore Gaming101's Kurt Kalata blasts a path through Contra and other shoot-em-ups, and more.

StoryBundle is a pay-what-you-want platform for independent authors to share their works with readers (and gamers) like you. Paying at least $5 will get you four books from the Spring Fired-Up Game Bundle, while paying $15 or more will get you six bonus books. – David L. Craddock

For StoryBundle, you decide what price you want to pay. For $5 (or more, if you're feeling generous), you'll get the basic bundle of four books in any ebook format—WORLDWIDE.

Game Boy Works Vol. I by Jeremy Parish

You and Your Friends Are Dead by Joel Couture

HG101 Presents: The Guide to Retro Indie Games Vol. 1 by Kurt Kalata

PS2 and Xbox Video Games You Will Never Play by Unseen64

If you pay at least the bonus price of just $15, you get all four of the regular books, plus NINE more!

GameDev Stories: Volume 2 by David L. Craddock

Dungeon Hacks: Expanded Edition by David L. Craddock

Game Boy Works Vol. 2 by Jeremy Parish

Memories of Arcadia by John Harris

Boss Fight Books: Katamari Damacy by L. E. Hall

HG101 Presents: Contra and Other Konami Classics by Kurt Kalata

GameCube Video Games You Will Never Play by Unseen64

Braving Britannia by Wes Locher

Dreamcast Video Games You Will Never Play by Unseen64

This bundle is available only for a limited time via http://www.storybundle.com. It allows easy reading on computers, smartphones, and tablets as well as Kindle and other ereaders via file transfer, email, and other methods. You get multiple DRM-free formats (.epub and .mobi) for all books!

It's also super easy to give the gift of reading with StoryBundle, thanks to our gift cards – which allow you to send someone a code that they can redeem for any future StoryBundle bundle – and timed delivery, which allows you to control exactly when your recipient will get the gift of StoryBundle.
As always thanks for your support!
What do you think about this unseen game? Give your vote!
Would you like to add more info, screens or videos to this page? Add a comment below!
(your first comment will be moderated before to be published)

Since 2001 Unseen64 archive beta and cancelled videogames, till the 7th generation of consoles. There are too many unseen games to preserve, but many people help us with their contributions, screens, videos and descriptions.
Do you want to help too?

Latest posts by U64 Staff & Contributors (see all)