Metro Panic is a cancelled RPG that was in development by Nichibutsu (Nihon Bussan) for Game Boy in early '90s. From the only screenshot found by Celine in Famitsu (Issue from 92/09/18) we can speculate it was some kind of adventure game set in subway stations?
It may have been somehow related to Nichibutsu's Tube Panic, a 1984 shooter that seems to have been the first "3D game" (it used tubular vortex levels) developed in Japan. Or maybe they just use a similar / same title because they already own the copyright for it.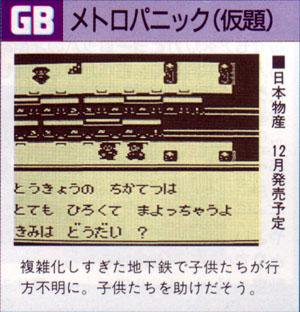 This could have a been a lost masterpiece for the GameBoy, or just another forgotten RPG. We hope someone could find more details still hidden away in some old japanese magazines.
"Metro panic (provisional)

A thrilling and suspense chase over Tokyo's subway! This is also a Game Boy but the title has been discontinued.

The stage is a complicated Tokyo subway.
Children who come to play from the countryside get lost on the Tokyo subway. Players act as runners or chasers. Runners find the children and get away to the target station. Chaser will help you chase it. As a rule, it seems to be something like a tag game. Of course, it seems that communication battle was also possible.

You can confirm that the actual route and station name appear in the screen picture. According to the description, it seems that there was also a mode that can actually search the subway map.

Was it a problem that Tokyo local was, I do not know if I did not get a subway permit, It is a pity that it has been discontinued for interesting content as a plan."
Thanks to A for the contribution!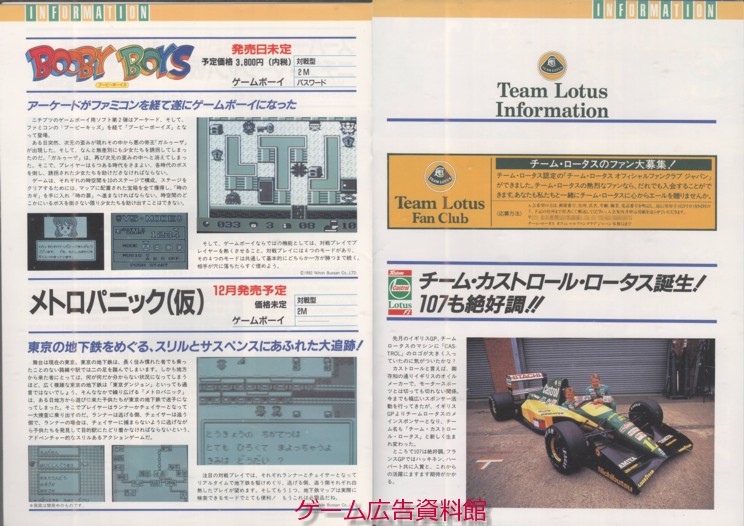 What do you think about this unseen game? Give your vote!
Would you like to add more info, screens or videos to this page? Add a comment below!
(your first comment will be moderated before to be published)