Deadline is a cancelled game that was in development by Kando Games, initially for Playstation 2 as an action game inspired by Metal Gear Solid and later for Wii as a FPS inspired by Half Life 2. The team was founded in 2003 by former Darkworks developers, and in about 5 years of existence they released Rebel Raiders: Operation Nighthawk (Wii, PS2, PC) and Touch Mechanic (DS).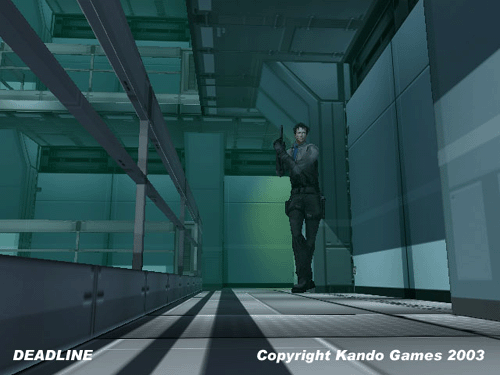 Deadline was one of the first projects they ever pitched to publishers in 2003 / 2004, by looking at the few screenshots available you can see how it was heavily inspired by MGS. It's unclear if they ever found a publisher interested in the game (translated from French using Google Translator):
"Kando Games, a small french developer founded notably by former figures Darkworks (Alone in the Dark – The New Nightmare), simultaneously produces two titles for PlayStation 2. Deadline, which its authors hope to make one of the big surprises of E3 2004, is the largest project under construction. What's wrong tunes Metal Gear Solid do not cheat, Deadline will be a very different kind. Based on the staging increasingly cinematic games today Kando Games hopes to offer players a relatively unique experience in organizing the handling of the title with a script and a set of modular cameras, which would not yet not threaten maneuverability, through a process they jealously kept secret for the moment. Basically, the game is truly a film (by virtue of its scenes and framing) playable. Hopefully they will take their goals and to come back in that capacity in a few months for a more successful and practical concept so special."
As far as we know Deadline for PS2 was never shown at E3 2004 and was later cancelled. Kando Game's first released game was then Rebel Raiders in 2006 and only in late 2007 Deadline reappeared again, this time as a first person shooter announced for Wii.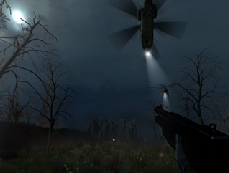 Unfortunately Kando Games only released a few tiny screenshots for the Wii version of Deadline, but by looking at those gamers noticed it was quite similar to Half Life 2. Deadline Wii also vanished soon after its initial announcement and was never shown again before its cancellation.
As of November 2017 Kando Games' website is still online, listing Deadline, another cancelled Wii project titled "Symphonic Orchestra" and an unreleased flying combat sim for PS2 and PC titled "Les Chevaliers du Ciel". Their latest game was published almost 9 years ago, so we can assume the studio doesn't exist anymore or they only work as support for other companies. We tried to get in contact with former Kando Games developers but without luck.
If you know someone who worked on Deadline and could help to preserve more screenshots or videos, please let us know!
Thanks to Dan for the contribution!
Images:
What do you think about this unseen game? Give your vote!
Would you like to add more info, screens or videos to this page? Add a comment below!
(your first comment will be moderated before to be published)