As we can read on Wikipedia, Conker's Bad Fur Day for the Nintendo 64 was originally going to be titled Conker's Quest and was later titled Twelve Tales: Conker 64. Early beta screenshots suggested the game would feature cute characters and colorful settings. Rare had a long history of making games of this sort, such as Banjo-Kazooie and Diddy Kong Racing, and at first Conker did not appear to be any different. However, Rare started to fear that the game would simply get lost in the platforming crowd, and critical mockery of "yet another cute platformer" caused the original game to be drastically overhauled.
The promotional videos and pictures from Electronic Entertainment Expo (at the time when the game was still called Twelve Tales) revealed objects and characters which have influenced the released game. Objects such as the flower and mushroom sprites were seen in the promotional video and a character closely resembling Buga the Knut was seen chasing Conker (who was wearing a knight's helmet) in a promotional picture. Conker's Bad Fur Day is considerably a far different game from the original plans despite the small influences it had on the release game.
Even if the differences with Conker's Quest / Twelve Tales beta are more obvious, Cubivore10 noticed some little beta differences in the early Conker Bad Fur Day too.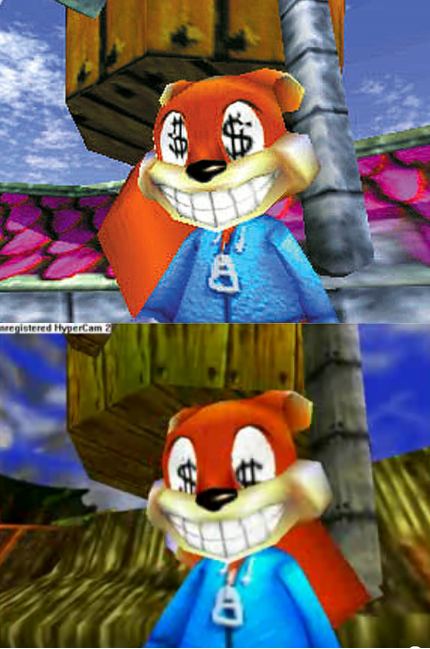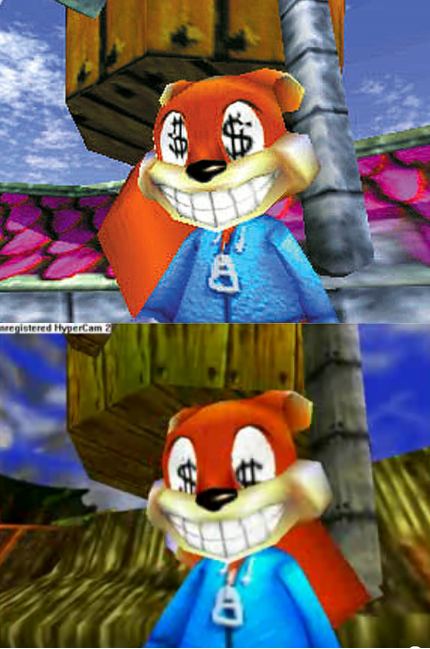 Here we can see that with the exception of Conker the whole screenshot has different textures, maybe be even reused from Twelve tales. The barn (pink roof) looks like it might even be shaped differently. (beta at the top, final at the bottom)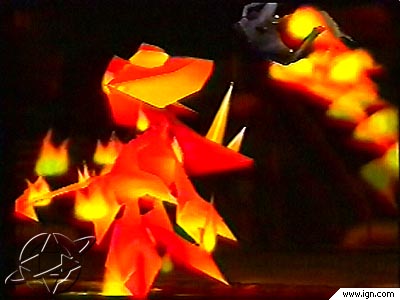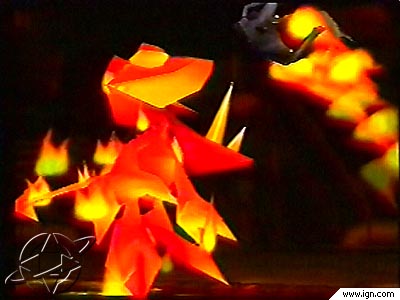 This one's a bit odd. The only time the fire imps appear in any cutscenes are during the Bat's Tower chapter. From what little I can see of the background its the boiler room still, but I NEVER recall the fire imps acting like this (I play that chapter on a regular basis FYI) It seems like something has shot off smoking and a fire imp is freaking out. Whatever is on fire by him appears to be burnt. The imps do become grey when Conker urinates on them, however, they don't shoot off like that.

At about 4:36 in the video below, there is the scene with the fire imps :  it seems to be catching something in his mouth, whatever the smoking thing was.
This beta / unused cutscene was found still hidden in the final game by Goomther and ConkerGuru:
As wrote by Cubivore10:
This short scene was in an earlier trailer. I'm assuming, judging by the way it grows, you would have fought a giant Fire Imp as opposed to the Boiler at some point during development.
As wrote by Fuzzy, it's quite short but in Goomther's video it looks like the imp is eating another imp, but in the original it seems the imp is eating something like a burned rat.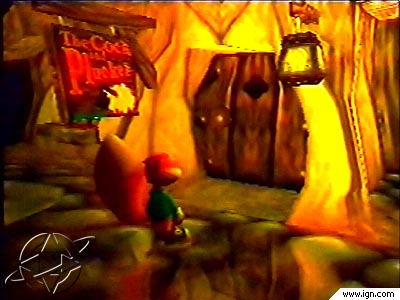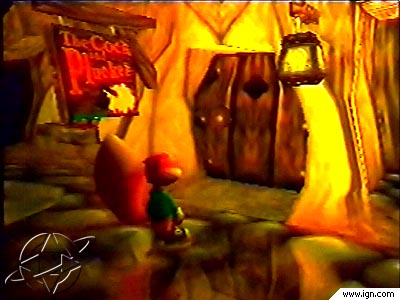 Nothing much here, but unless he's over more to the right than I recall, Birdy the scarecrow isn't outside the bar.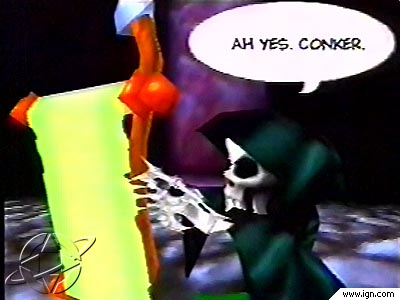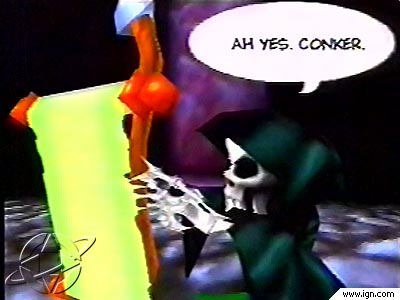 Another minor detail, but in the final version of the game Gregg's voice bubble is a dark gray color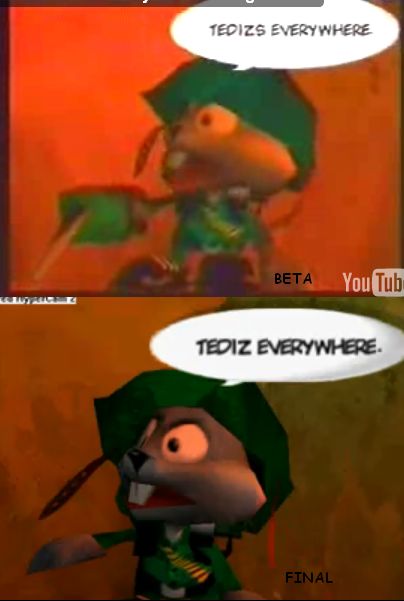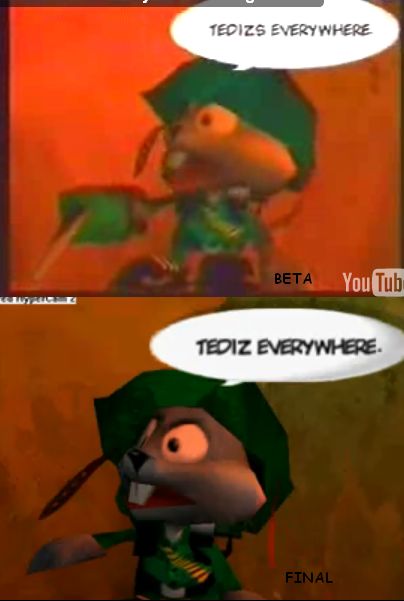 The gray squirrel that Conker talks to is holding a walkie-talkie in the beta version (also the changed "tedizs" to "tediz").
In the video below, at about 1:25 when Conker has to use his slingshot to open the vault, it doesn't seem to be moving.
Also, Goomther found a weird / unfinished level in the game's code, that could be an half-removed debug room! Check the video below for a look at this strange area. More unused models and development stuff were found by ConkerGuru in the game's code (check his website for more!):
The tail of an very popular mouse pokémon. This tail was, according to an post on Chris Seavor's twitter page, used for an cutscene they were forced to cut on nintendo's request. When the cutscene played, the tail, obviously, would be placed on the back of the Pikachu model. Whatmore, Conker was also to interact with it during the scene, as there's some unused animations remaining in the game of Conker sitting on his knees, and petting some creature.
Thanks to Cubivore10 and Goomther for the contributions!
Images (unused / beta models):
Videos:
What do you think about this unseen game? Give your vote!
Would you like to add more info, screens or videos to this page? Add a comment below!
(your first comment will be moderated before to be published)

Editor in Chief, UX & SE Optimization
at
Unseen64
I'm an
Italian gamer
with
not enough free time
to play as much as i'd like to and
sadly not enough time
to write about cancelled and beta games.
Founder of Unseen64 in 2001
, i'd like to sleep more than 5 hours a day, but i have to pay the bills. I'm currently working for various italian & international websites for a better
User Experience & Search Engine Optimization
, you can add me on
Twitter
,
Last FM
or contact me by
email
.