Cut Away is a cancelled videogame that was supposedly in development by Classified Games for the Sega Dreamcast. Nothing is known about this project, apart from a poster and few news on IGN.com.
The game was first reported by Anoop Gantayat, with a release date of Fall 1999:
Yes, it's a poster for a Dreamcast game called Cut Away – a game about which I've heard nothing before today. Actually, I've never heard of Classified Games at all – pretty odd, since their first DC title is scheduled for a Fall release. Apparently, the company is also working on some Gameboy Color games, including The Mask of Zorro, Burgertime Deluxe Starring the Flinstones, and Magical Drop.

The promise of a photo realistic adventure set in San Francisco and involving terrorists and bombs sounds intriguing, and boy do we love that "Terror so real, you'll feel the blast" catch phrase, but we hope that Classified Games has plans to at least show us a few screen shots before the game is released. We'll be back with more information, assuming we can find anything.
Other details were pointed by Matthew Langan:
It turns out that Microsoft is the company behind the title, having formed a small development team called Classified Games to produce it. As a third person adventure, the gameplay will unsurprisingly be similar to both Capcom's Resident Evil and Pulse's Undercover. While specifics are still being kept under wraps, it's clear that the story will take place in San Francisco. Plenty of CG movies are promised, as is an intriguing story to keep you on your feet. Speaking of which, bombs have been planted across the city by terrorists. As the hero, it's your job to stop them from causing complete and utter chaos, whatever the cost may be!

A release date has yet to be confirmed for Cut Away, but we'll be sure to keep you fully updated. Keep an eye out for an extensive preview in the upcoming weeks, right here at IGNDC.
Another tidbit was reported on the magazine Dreamcast Monthly (Issue 1), however nothing new was added: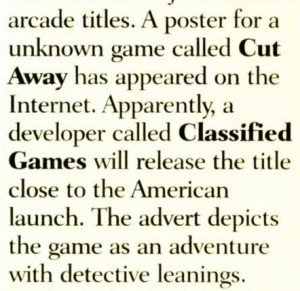 If you try to search about "Classified Games" on the Internet very few informations come up, with the majority of them not even related to the Dreamcast.  Classified Games was also supposed to publish the North American version of Bakuretsu Muteki Bangaioh (later released as Bangai-O by Conspiracy Entertainment), as reported by IGN. There is maybe a connection between Conspiracy Entertainment and Classified Games, if you know more informations about this game or you have worked with Classified Games drop us an e-mail, we are very interested to know more about this project.
Thanks to Chocomarker1 on the Assemblergames Forum for noticing this game!
Images: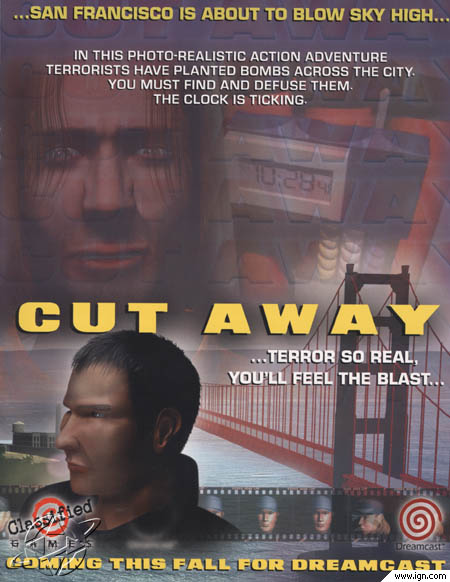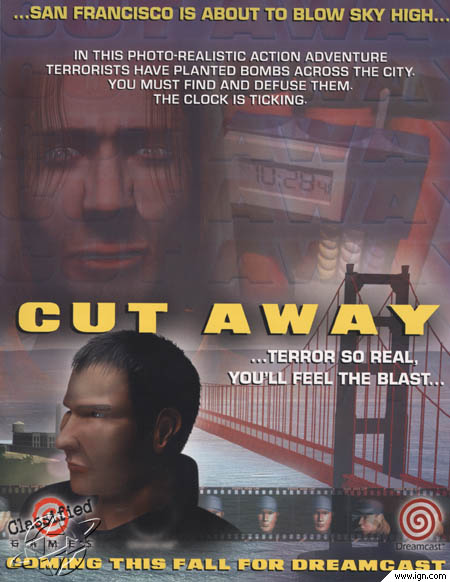 Magazine Scans: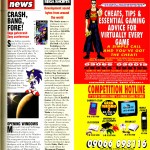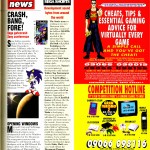 What do you think about this unseen game? Give your vote!
Would you like to add more info, screens or videos to this page? Add a comment below!
(your first comment will be moderated before to be published)
Latest posts by Damiano Bacci
(see all)