We know that Too Human for the X360 will not be exactly like the original project, but at least it's coming out in some form (and it could be fun!). The unseen news is that the full 4 player coop multiplayer has been cut-off, and now it seems that only 2 friends will be able to play togheter to kill millions of robots-aliens-things. On Kotaku we read that "When Silicon Knights and Denis Dyack showed off the epic Too Human to IGN last year, the outlet was right to call its four-player cooperative multiplayer mode "ambitious." The feature has been scaled back, Microsoft revealed today, keeping Too Human's campaign buddy system limited to just two players." I wonder if they will be able to finish the trilogy or we should already prepare for some unreleased sequels.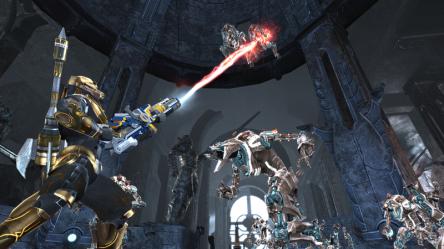 What do you think about this unseen game? Give your vote!
Would you like to add more info, screens or videos to this page? Add a comment below!
(your first comment will be moderated before to be published)