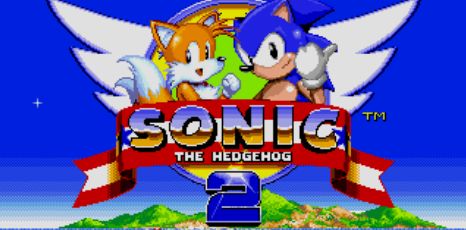 Sonic 2, come gli altri capitoli della saga per megadrive, non ha bisogno di presentazioni. Rilasciato nel novembre del 1992 dopo il grande successo del primo episodio, il titolo Sega ha marchiato a fuoco, con le sue entusmanti vendite, il periodo migliore della celebre software house. Ma il secondo capitolo della serie è significativo anche perchè rappresenta il più importante documento beta dei sonic e uno dei più interessanti in assoluto.
La prima "riscoperta" del prototipo avvenne nel dicembre 1998, quando in seguito ad una discussione in un newsgroup Simon Wai rilasciò, con grande sorpresa degli appassionati, una versione beta di Sonic 2 che aveva appena trovato  in un sito cinese. Diciamo "riscoperta" perchè in realtà la cartuccia esisteva già da parecchio tempo, e lo stesso Wai ci aveva già giocato nel 1992. Yuji Naka, interrogato sulla questione, ha affermato che probabilmente la beta è stata rubata nel 92 a New York, finendo poi nei mercati clandestini asiatici. Ad ogni modo, finalmente la comunità aveva a disposizione un prototipo di Sonic 2 che avrebbe permesso di fare un po' di ordine nelle diverse build del gioco, apparse in riviste, programmi tv, spot pubblicatori, eventi di vario genere.
I risultati non tardarono ad arrivare. Infatti una volta accuratamente controllato, il prototipo rivelò tutte le sue meraviglie, mostrando livelli ancora in fase preliminare, privi di nemici o con un layout diverso, in fase di testing (come la Dust Hill Zone), mai completati per problemi di deadline (come la Wood Zone e la Jidden Palace Zone), o presenti solo come semplici righe di testo all'interno della cartuccia (Genocide City e Death Egg).
Ma andiamo con ordine, esaminando le zone come sono elencate nel level select:
[Articolo a cura di Yota]
Green Hill zone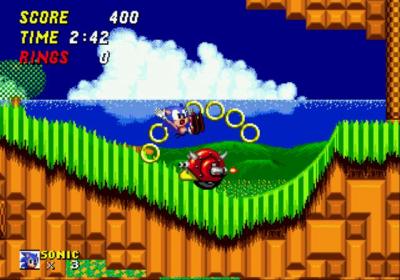 Il nome nella versione definitiva è cambiato in Emeral Hill Zone. Essendo il primo livello, è sicuramente quello più completo presente all'interno della beta, ed è anche l'unico ad avere il boss, sebbene alcuni particolari dello scontro siano ancora incompleti (il veicolo non emette alcun rumore quando entra in scena, e non esplode quando viene distrutto dai nostri eroi). Da notare, nello screenshot, la presenza di un nemico poi totalmente eliminato dal gioco. La musica è identica alla versione definitiva
Wood zone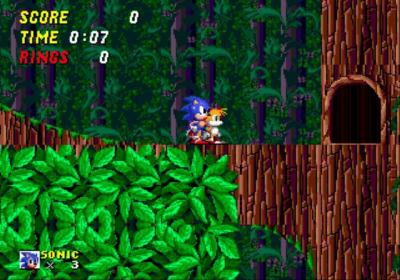 Primo stage del level select ad essere stato totalmente eliminato dalla versione finale. Già noto attraverso foto presenti nelle riviste dell'epoca, la Wood zone era un livello ambientato in una foresta. Lo sviluppo non deve essere durato tantissimo, visto che è chiaro che è ancora nelle fasi preliminari, e può essere esplorato interamente solo con il debug. Da notare che ha la stessa musica beta della Metropolis zone.
Metropolis zone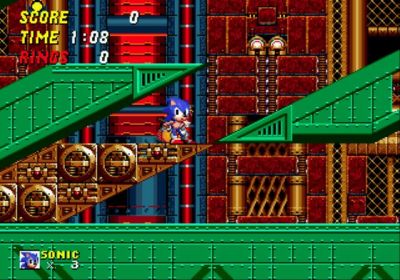 Metropolis Zone è l'unico livello di Sonic 2 che ha tre "acts", e la beta non è da meno, benchè siano ancora tutte e tre incomplete, prive di anelli e di nemici. Nell'act 3 è presente una sorta di ascensore, come potete vedere nello screenshot, che è stato totalmente eliminato nella versione finale. Il tema musicale, identico a quello della Wood Zone, è leggermente diverso da quello finale.
Hidden Palace Zone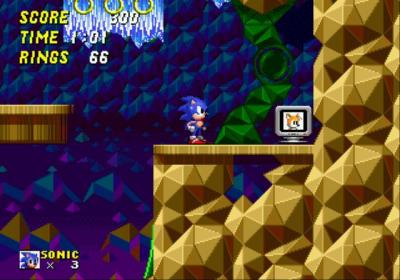 Gli appassionati della saga riconosceranno subito il nome di questa zona, identico a quella di un livello di Sonic e Knuckles. La Zone presente in Sonic 2 è comunque diversa, essendo ambientata in una suggestiva caverna sotterranea. Come la Wood Zone l'Hidden Palace non è mai stato completato, sebbene la sua presenza nell'alpha di Sonic 2 indica che probabilmente si trattava di uno dei primi livelli ad essere stati concepiti. A parte questo, si tratta sicuramente della zona con gli elementi più interessanti di tutta la beta, a partire dalla presenza di un enorme smeraldo verde, molto simile ai master emeralds che compariranno solo in Sonic & Knuckles (sebbene sembra che non esista alcun rapporto tra i due), alla presenza di un monitor 1-up con il volto di Tails (di cui è sconosciuta l'utilità), e di badnicks totalmente eliminati dalla versione finale. Da notare che lo stage è ancora accessibile nella versione definitiva, utilizzando l'Action Replay, benchè con la grafica orrendamente alterata.
Hill Top Zone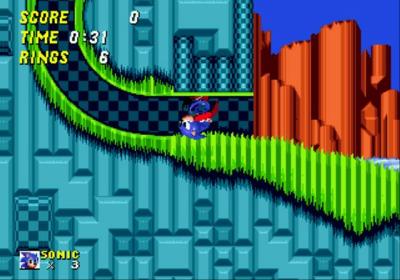 E' una delle zone più complete, e le differenze più evidenti sono sicuramente la mancanza del suono dei terremoti sotteranei e dell'animazione di Sonic che rotola nei cunicoli. La musica è già quella definitiva.
Oil Ocean Zone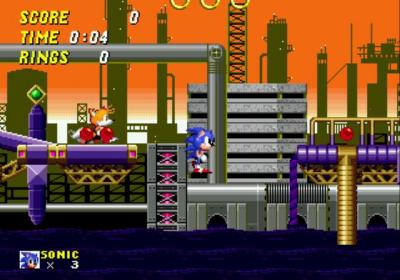 Altro livello molto simile alla versione finale, anche se è presente un'altro oggetto beta: una strana palla quadrettata che può essere attivata premendo un tasto. La musica è ancora quella della Casino Night Zone.
Dust hill Zone
Non è altro che la Mystic Cave Zone ancora in fase di testing per creare il layout vero e proprio del livello. E' praticamente ingiocabile senza il debug. La musica utilizzata è quella finale.
Casino night Zone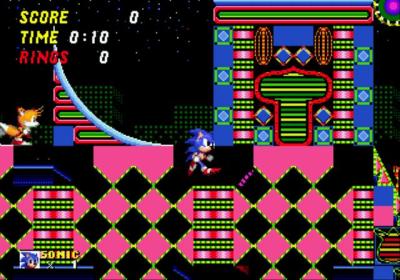 Anche in questo stage è necessaria la modalità debug per poterla completare, visto che ancora mancano elementi fondamentali, come la slot machine e le molle nei tunnel. La palette dei colori è molto più accesa della versione finale, e l'act 2 non ha ancora lo sfondo definitivo (la città notturna). Anche la musica è leggermente diversa dall'originale.
Chemical Plant Zone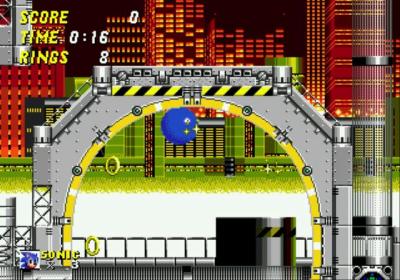 La Chemical Plant Zone è già in fase avanzata di sviluppo, in quanto ha un layout già vicino alla versione finale. Poche le differenze, in particolare come potete vedere dalla foto la differente conformazione degli angoli della strutture circolari e gli effetti sonori non definitivi dei fluidi blu che escono dai tubi. La musica è già quella definitiva.
Genocide city Zone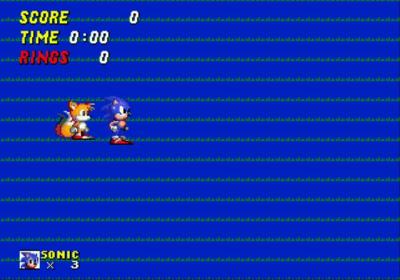 Sicuramente la zona che ha creato le teorie più fantasiose, e non è difficile capire il perchè visto il nome che porta. Nella beta Genocide City è solamente un nome, in quanto non esiste niente del livello, e probabilmente non è mai esistito niente, in quanto di questa città futuristica era solo stata solo realizzata la concept art (e peraltro in bianco e nero), che poi è stata abbandonata anche se ha ispirato poi lo sviluppo di un livello di Sonic Spinball. La musica è identica a quella della Chemical Zone.
Neo Green hill Zone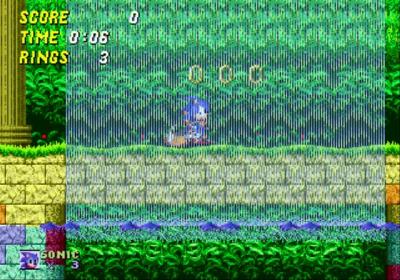 Come può ben vedere chi ha già giocato Sonic 2, la Neo Green Zone non è altro che l'Acquatic Ruin Zone. Nonostante il livello sia concettualmente identico all'originale, ancora le due zone sono ancora incomplete e prive di nemici. La musica è già quella definitiva, mentre manca (come in tutti gli stage della beta) la scritta iniziale che indica il nome dello stage.
Death Egg Zone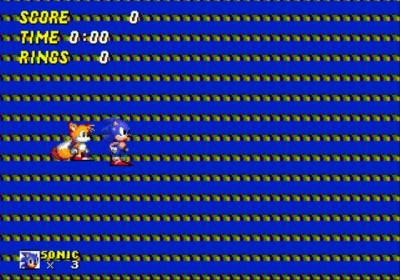 E' la zona finale, ma è ancora completamente vuota. Da notare che il level select beta della presenta 2 act, mentre la versione definitiva ne ha solo uno. E' l'unico livello della beta ad essere privo di musica.
Sonic: The Betahog
Oltre alla struttura dei livelli, anche i movimenti di Sonic e Tails non sono ancora quelli definitivi, con le animazioni dello spin dash, della corsa e delle collisioni con le spine, leggermente differenti dall'originale. Dopo 8 anni di teorie, di accurate ricerche all'interno del codice, recupero di materiali attinenti di qualsiasi tipo, dalle videocassette alle riviste, finalmente nel novembre del 2006 è stata ritrovata una build precedente rispetto alla beta del 1998 con versioni ancora più incomplete di alcuni livelli di Sonic 2 (sono presenti solo l'Emerald Hill Zone, Hill top, Chemical Plant e un Hidden Palace identico alla beta di Simon Wai ). Addirittura sono ancora presenti la Green Hill zone originale di Sonic 1 e altri leftovers del primo capitolo della saga. Ma la storia continua: nel febbraio nel 2008 infatti Hidden Palace ha rilasciato nuove beta di Sonic 2. 
[Articolo a cura di Yota]
If you have some more info, comments o question, you can send us an email or join our forum
What do you think about this unseen game? Give your vote!
Would you like to add more info, screens or videos to this page? Add a comment below!
(your first comment will be moderated before to be published)