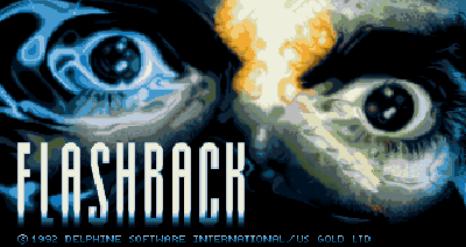 Nel 2004 cessava definitivamente di esistere Delphine, celebre software house francese che agli inizi degli anni 90 aveva regalato agli appassionati due adventure di gran classe come Another World e Flashback. Rimasero cosi non completati alcuni progetti in fase di sviluppo, tra i quali spiccava naturalmente Flashback Legends, una nuova versione per GBA del loro franchise più celebre. Come spesso accade nel mondo degli Unseen, tempo dopo la beta venne rilasciata su internet e, benchè ancora incompleta e colma di bug, rivelò un titolo in fase avanzata di programmazione e probabilmente non lontanissimo dalla conclusione.
[Articolo a cura di Yota]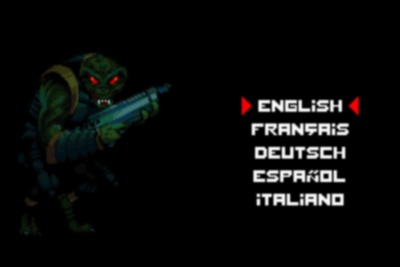 La prima schermata che ci accoglie in Flashback è quella canonica della scelta della lingua, ma sfortunatamente all'interno della cartuccia è presente solo il francese.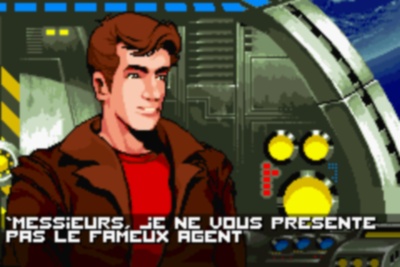 Dopo tale illusoria selezione, ci accoglie una piccola intro, realizzata in uno stile fumettistico decisamente lontano dalle visuali stilizzate delle cut-scenes originali, la ci prepara adeguatamente al motore grafico vero e proprio, anche questo piuttosto diverso dall'austerità del primo Flashback, sprite del nostro eroe a parte.
Una volta imparati i comandi, ci si accorge che ci troviamo di fronte ad un titolo dal gameplay piuttosto simile all'originale, anche se un pò semplificato per quanto riguarda i puzzle, limitati stavolta a trovare card per aprire porte o a batterie per ripristinare l'elettricità, e per lo scrolling continuo.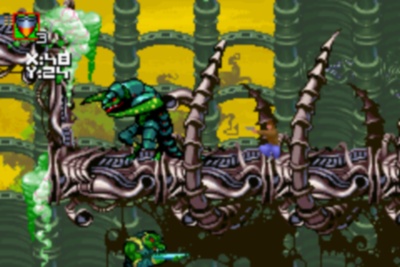 Un comodo tutorial, fortunatamente (visto che è un pò intrusivo) disattivabile, insieme all'immancabile PDA che ci informerà dei vari oggetti del nostro Conrad, ci aiuteranno a prendere confidenza con quello che rimane un action adventure piuttosto classico. Oltre a risolvere enigmi, ci ritroveremo continuamente a saltare voragini, campi elettrificati e ad uccidere i vari nemici che incontreremo per strada.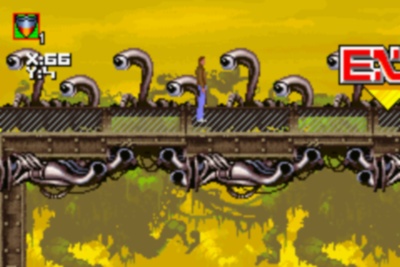 Inoltre, nonostante la presenza in questa beta di sei ambientazioni, come potete vedere dagli screenshots in questa pagina, i vari stage non offrono nessuna variazione significativa. Il gioco peraltro non è facilissimo, soprattutto verso la fine, anche per la mancanza dei check-point.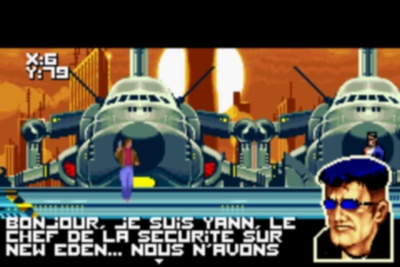 Il gioco, a quanto sappiamo attualmente, non ha una vera conclusione, ma si ferma davanti a due piattaforme alla fine dell'ultimo livello a tempo del sesto mondo. Il titolo Delphine è ancora pieno di bug e spesso è necessario utilizzare particolari accorgimenti dell'emulatore (save state, rallentamenti) per superarli. In particolare,un fastidioso bug fa bloccare il giocatore nel primo mondo, ma grazie alle opzioni dell'emu è possibile proseguire ed esplorare i livelli successivi.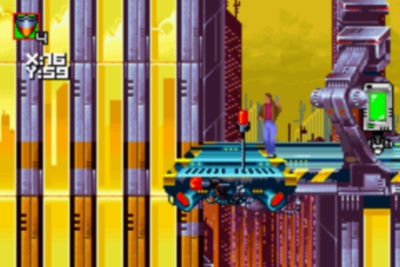 Per concludere, possiamo affermare che Legends rappresenta il testamento di una software house di culto. Come ultima missione Delphine ha tentato di modernizzare, almeno esteticamente, il suo titolo di punta, adattandolo per le nuove generazioni. Nonostante Conrad non sia in forma come un tempo, Flashback Legends rappresenta probabilmente l'ultima possibilità di rivivere il gameplay classico Delphine.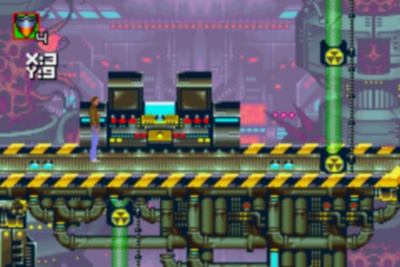 Per altri screenshots >> Flashback Legends Images Archive
[Articolo a cura di Yota]Avete commenti, contributi, correzioni o domande su questo articolo? La nostra email è a vostra disposizione per ogni evenienza.
What do you think about this unseen game? Give your vote!
Would you like to add more info, screens or videos to this page? Add a comment below!
(your first comment will be moderated before to be published)