Hideo Kojima began to work on a sequel of Metal Gear 2 in 1993, although he was still finishing Policenatus. The game was going to be released for 3DO, and very early artworks were included in the pilot disk of Policenatus. In 1995, however, the development shifted to Playstation and Saturn.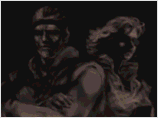 Metal Gear 3, now called Metal Gear Solid , was finally showed to the public at the first edition of the Tokyio Game Show (1996). The prototype is very different aesthetically  from the final build: Snake looks younger, the hud is much more cartoonish, the items have odd names, the graphic engine is still primitive. The basic outline of the story seems to be pretty similar, and we can even see the REX, but Foxhound still lacks Decoy Octopus.
Another beta was presented at the TGS 1997. It is the same Mgs that we love or hate, but Kojima was still changing things around. Many items still have different names, Snake fights with the Ninja in the corridor, the radar is strange looking and active even at boss fights, Snake's and guard's vision cone is of another color, blood is different, the life bar is huge and not located at the upper left side of the screen,  Snake has a kick combo that will be inserted only in MGS2 and he can moving crouched, the infrared rays in tank hangar weren't implemented yet, Snake removes the safety pin before launching a grenade, Meryl seems to fight more often and she recharges his gun with bullets from his.. cleavage.  The camera  appear to be fully controllable, but  maybe it was only the developers showing off the engine. The same can said for the all shooting scenes, even if is possible that originally there was more emphasis on action.
There were even rumors of a Nintendo 64 version, but its existence was never confirmed. An alpha build of Mgs saturn is said to exist,through. Of course, at the end Metal Gear Solid was released only for PSX and PC.
Also, John Doom found some differences between the final version of MGS and its Pilot Disk (SLPM-86098): check the last video below to see them!
Images:
Some magazine scans from DarkMirage, on X-Cult Forum
Videos:
Would you like to add more info, screens or videos to this page? Add a comment below!
(your first post will be moderated before to be published)

From 2001 Unseen 64 tries to archive beta and cancelled videogames, till the 7th generation of consoles. There are too many unseen games to archive, but many people help us with their contributions, screens, videos and descriptions.
Do you want to help too?

Latest posts by U64 Staff & Contributors (see all)