Chi Yong is a cancelled fighting game in development by Lightspeed Productions for the original Playstation in 1996. This is quite an obscure and forgotten project: we can't even find any detail about its developers. Chi Yong was officially announced in a few websites and gaming magazines in late 1996. It was meant to be a 4 players fighting game game featuring digitized actors, similar to Mortal Kombat. Some of the actors were even the same.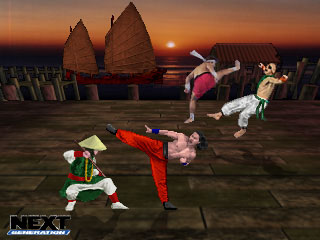 As we can read in an old press release:
MK Actors to Star in New Fighting Game

Martial arts actors used in the Mortal Kombat series are being digitised again for forthcoming title Chi Yong. HoSang Pak, Daniel Pesina, Katalin Zamier, Phillip Ahn and Liz Malecki all featured in various Mortal Kombat incarnations. They have been picked to show off their martial arts prowess for Lightspeed Productions forthcoming beat-'em up.

Chi Yong (a working title which means 'spirit of the dragon') is a four-play multi-tap fighting game for PlayStation. Right now it's about 20 per cent complete and should be available by the end of this year. A spokesperson for the company commented: "Most of the actors digitized are black belts in martial arts. We feel that using real martial artists with experience gives realism and authenticity to the fighting game."
The story gets even weirder when you find out that the same actors were already planned to be featured in "Thea Realm Fighters", a cancelled 1 VS 1 fighting game in development by High Voltage Software for the Atari Jaguar (later leaked online). There's even a TRF promotional poster given away at E3 1995 in which we can read "ⓒ Lightspeed Productions" written in the bottom-left. We don't know what kind of relationship High Voltage Software had with Lightspeed Productions. We can't find any more details about who Lightspeed Productions were or what happened to them.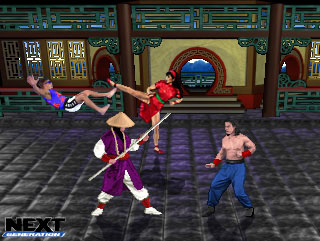 It seems TRF was almost complete in 1996 when Atari cancelled it alongside other upcoming Jaguar projects. We can speculate that its assets (such as the digitized actors) were kept by Lightspeed Productions to develop Chi Yong for Playstation. While the two games used the same characters, Chi Yong was expanded to become a 4 players fighting game, a nice addition for a Mortal Kombat clone.
If you know someone who worked at Lightspeed Productions, please let us know!
Thanks to eSpy for the contribution!
Images: