The Insider: Back in Black is a cancelled adventure game that was in development for PC between 1998 and 2001 by french company Dramaera (AKA In-Visio or Dæsign). The game's protagonist was Simon Blurr, an international thief in search of new pieces for his private art collection. Set in 1920s Paris, The Insider was conceived as an ambitious exploration – simulation game, where each character had its own live and emotions, artificial intelligence and daily routine, probably following an internal clock.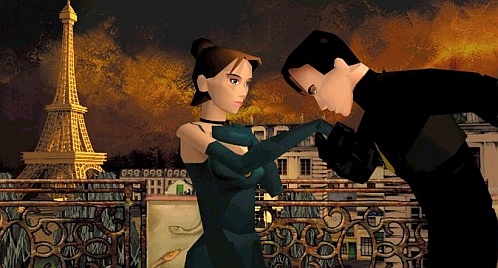 Players could move around different buildings of Paris to plan their next robbery, by observing streets, houses, museums and people who live in them. French publisher Canal+Multimédia was initially supporting the team, but in March 2000 they closed their relationship with Dramaera because their project was not proceeding as expected. As we can read on Mobygames:
"The company then signed a contract with index+ in June 2000 with an investment for the game and an additional financial promise to cover the costs to port the game to the PlayStation 2. The companies knew each other well, as Réunion des Musées Nationaux had tasked Dramæra to create the game Paris 1313: The Mystery of Notre-Dame Cathedral, published by index+.

A few weeks after the contract however, index+ was sold to Wanadoo Edition. The relationship quickly deteriorated when Wanadoo decided to focus on more mainstream products. The Insider, the project Dramæra had been working since 1998 with an investment of € 900,000, was to be turned into a classic adventure game with a new team. Jean-Noël Portugal refused and because of this the studio ran into financial troubles at the end of 2001."
We don't know how much of the game was dove before its cancellation, but it would be interesting to see a prototype leaked one day, to understand what the team was able to achieve.
Images:
Videos: