Game of Death is a cancelled survival horror / action game that was in development for Playstation 2, Xbox and PC by german team Burns Entertainment Software in 2001. It would have been somehow similar to Shadowman, players would take the role of a dying (?) man who would try to kill down the most notorious serial killers of the 20th century (for example Fritz Haarmann, Charles Manson or Jeffrey Dahmer).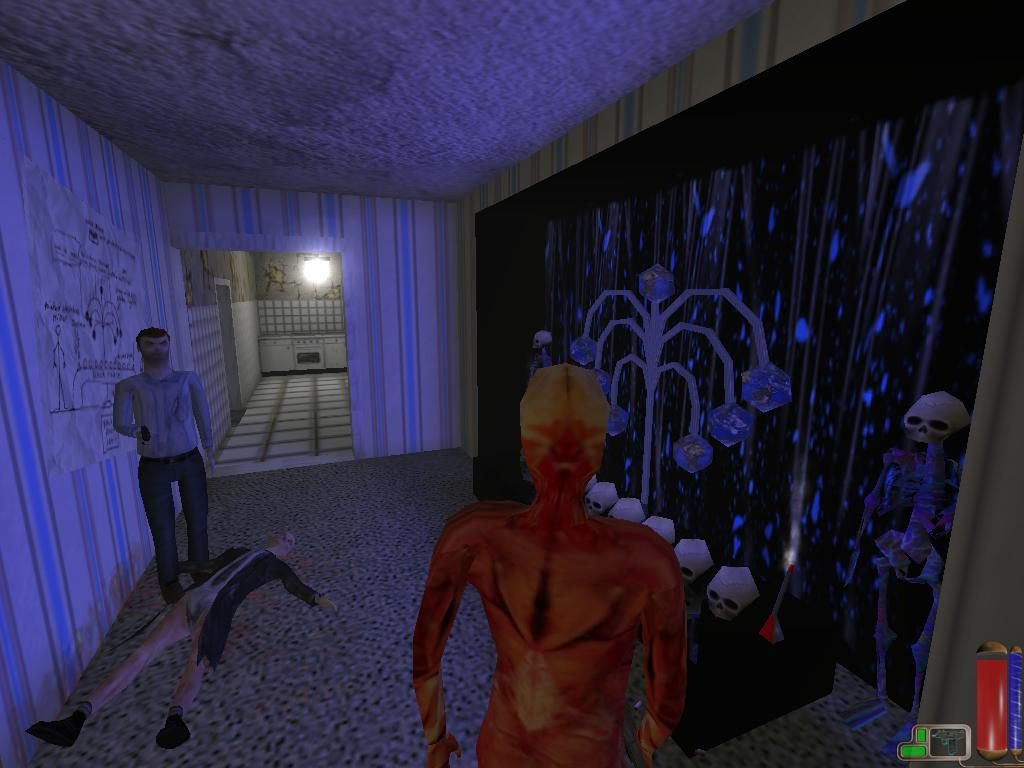 Horror films director Joerg Buttgereit, who worked on such movies as Nekromantik and Schramm, was the one who created Game of Death's concept and characters, a psychological horror game with an original gameplay mechanic.
The game's protagonist is a young man sent to a hospital after a lethal car accident. While doctors try to save him, he dreams of a strange world in which you have to defeat evil serial killers to survive. Each homicidal maniac must be killed by their own method – choked, cut to pieces with a chainsaw, shot with a shotgun, crucified and so on.
You had to obtain the right weapons able to kill each boss by taking them from the less powerful monsters found in each level. It was necessary to learn and exploit the bosses weaknesses to survive, otherwise it would have been impossible to beat them. Players would have been able to read through the case files for those serial killers, to find clues about their modus operandi and weakness.
At the same time players should try to not became a murderer themselves, by killing bosses only during special circumstances, for example for self-defense, through the release of their kidnapped victims and so on. This would permit to eliminate the serial killers without losing your "innocence", otherwise you could also lose your life at the end of the game.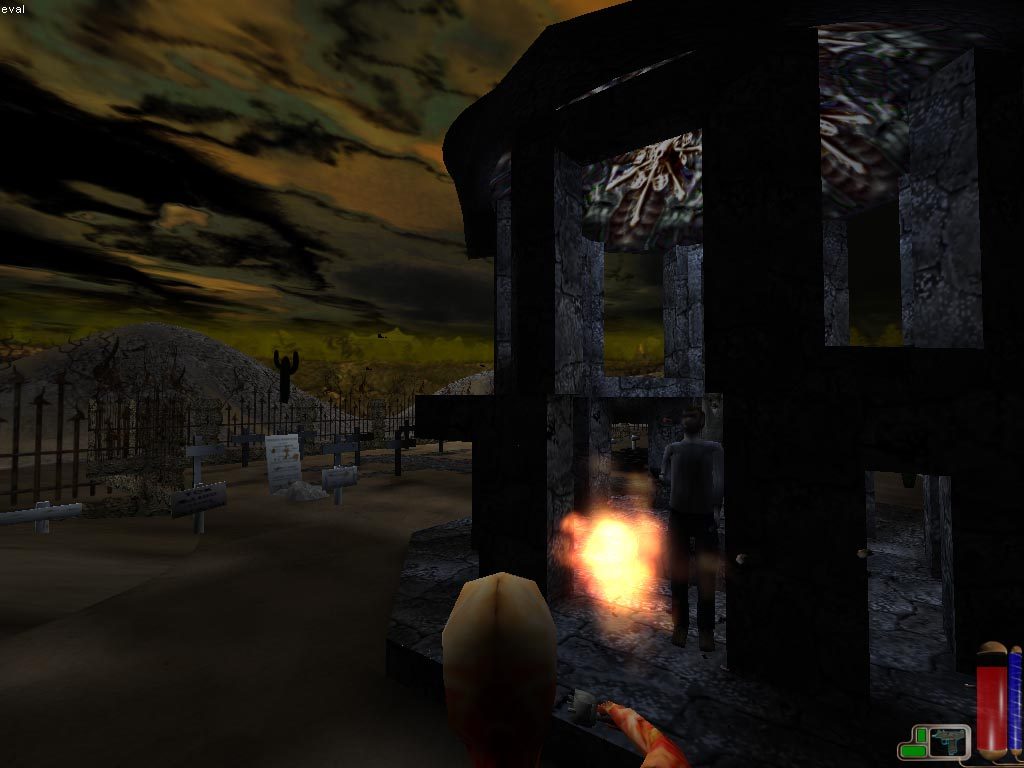 More than 40 maniac bosses were planned for the game, each on with their own level accessible from a HUB zone, a giant bone cathedral.
Thanks to an interview with Burns Entertainment by Golem.de (in german, translated with Google Translate) we can learn some more details about this lost game:
Golem.de: How did the cooperation between BURNS and Jörg Buttgereit come about?

Winkler: I thought you'd have to do a horror game, in which you would like to go to bed after a gamble, but not in the basement. But this is hardly feasible as a pure game developer. Since you have all sorts of experiences, but none in terms of horror dramaturgy, effects and suspense. That's why I contacted Jörg, who in Germany is something like the grandmaster of the horror and trash movie. I knew his necromancy films and the reviews he published in the Berlin press about movies. He has a wonderfully laconic writing style, I immediately liked that. Jörg found the idea exciting to play a game and immediately pledged.

Golem.de: Where do you see the most serious differences between Game Of Death and current action titles?

Winkler: Most action games are in fictitious worlds. The player fights against fantasy monsters or anonymous mercenaries. In Game Of Death, however, the player encounters negative characters in contemporary history who are firmly rooted in the memory of their nations. Many Germans know Fritz Haarmann, and many Americans know who Charles Manson or Jeffrey Dahmer is. Dealing with the abysses of the human psyche is exciting for most people, whether they admit it publicly or prefer to watch "The Silence of the Lambs" at home alone, and we are openly dealing with that. Another difference is the awareness of physical decay. The hero is not a superman. If he is injured, the player can actually see the consequences of this injury. The hero loses physical substance with each injury until he becomes disabled as a skeleton. Of course, he can regenerate his energy and his physical substance during the game in various ways.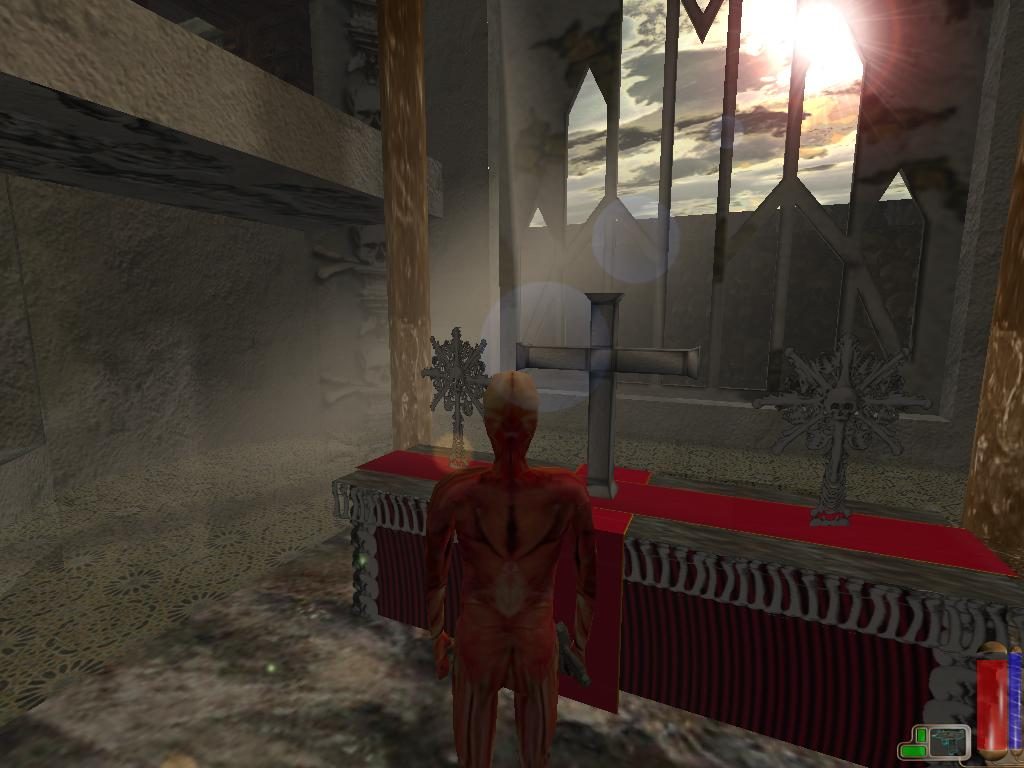 Golem.de: Do you think that Game of Death is at risk of being indexed?

Winkler: No. The game definitely will not be a splatter orgy and will not provide any instructions to finally get rid of your unloved neighbor, who has always annoyed you. It may of course be that someone alone calls for the keyword "serial killer" after indexing. This happened only recently before the cinema start of "Hannibal", and that will happen again and again. But we aim for a USK release from 16 years. This is far from an indexing game.

Golem.de: Where do you set the limits with regard to the biographies of serial killers? What will you learn about the characters in the game, what will you be able to re-enact?

Winkler: In the game every mass murderer and serial killer dies according to the method with which he has killed his victims. As a result, the player becomes a hero and avenger on behalf of the defenseless victims. In order to fulfill this role, the player learns the most important information about the killer's deeds and psyche in a "Serial Killers Dictionary" (SDK), which is constantly available as an inventory component. Not every detail of the life of mentally disturbed child molesters is spread in it. The SDK limits itself to key data relevant to the game.

The historically accurate course of the murders is not reconstructed in the game. This is not necessary for the gameplay. I also do not think anyone is really interested in slicing up the guts of a highly pregnant woman like the Manson gang did with Sharon Tate. That's where we set very clear limits.
As far as we know, Burns Games were not able to find a publisher for Game of Death, maybe because of its settings. In the end the game was cancelled and the company vanished forever after a few years. Game of Death's soundtrack would have been composed by Rod Army.
Thanks to Massimo Carlone for the contribution!
Images:
Video: