Excalibur is a cancelled action RPG that was in development by Australian team Auran (later known as n3vrf41l Publishing and N3V Games Pty), announced in 2001 for PC. The game was based on the legend of King Arthur and his "Sword in the Stone" Excalibur.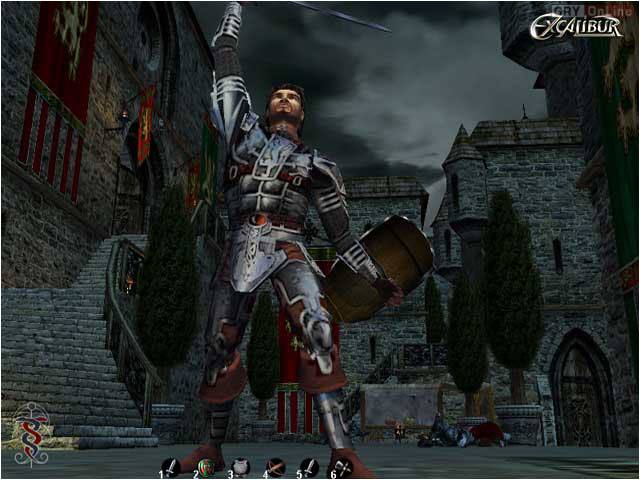 Established in 1995, Auran first came to prominence with the hit RTS "Dark Reign: The Future of War", which won Strategy Game of the Year in 1997. As one of Australia's oldest and largest game studios Auran has won numerous technology awards and operates from world-class facilities in sunny sub-tropical Brisbane. Boasting a team of internationally experienced developers, Auran's staff have worked on a titles including: Asheron's Call 1 & 2, Star Wars Galaxies, Ultima Online, Mythica, Middle Earth Online, Need for Speed Underground, Magic and Mayhem and many more.
As we can read from the original press-release on Gamespot and Shacknews:
"The game is set in a medieval fantasy world split into three main realms: Albion, Poisoned Camelot, and Avalon. It features ranged, melee, and magical combat, and it includes a wide range of medieval weapons, such as swords, maces, axes, longbows, and crossbows, as well as a number of magical spells. Players will be able to follow the game's single-player storyline or engage in head-to-head combat in multiplayer mode over the Internet. Excalibur will also include elements of siege warfare, such as catapults, battering rams, and cauldrons of boiling oil."

– Master the three disciplines of melee combat, range combat, and magic

– Wield swords, maces, axes and other medieval weaponry with dazzling technique

– Fire awesome range weapons, including the legendary long bow and the deadly crossbow

– Cast cool magic spells to help your friends or hinder your enemies

– Fight hand-to-hand over the Internet

– Shoot huge catapults

– Ram castle gates

– Pour boiling oil over your foes

– Morph into strange beasts

– Fight savage hand-to-hand battles for Internet supremacy!
In the end Excalibur was never completed: we can assume the project was too ambitious for such a small team, and they instead found niche success in their Trainz simulation series.
Thanks to mihapsx for the contribution!
Images: