Beneath is a cancelled action adventure that was in development by Presto Studios in mid / late '90s, to be published by Activision for the original Playstation and PC. The game was quite hyped at the time: it was presented as a "Tomb Raider" killer, with such lines as "Deeper than any Tomb" and "More dangerous than any woman". As we can read on The Journeyman Project website:
"Follow the exploits of Jack Wells as he searches for his missing father, a renowned archaeologist, down a mysterious network of tunnels deep into the earth. The game features a cutting-edge 3D engine with support for hardware acceleration and levels full of amazing uncharted civilizations to explore, climb and swing your way through."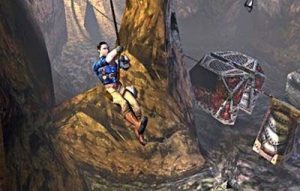 Presto Studios wanted to add more than Tomb Raider in their inspirations, and such names as H.G. Wells or Jules Verne were dropped in old press releases, such as in this one by CNN:
"Is the world ready for a revisionist H.G. Wells or Jules Verne adventure game? Presto Studios and Activision think so. In Beneath, Presto (of Journeyman Project fame) is convinced that Tomb Raider opened a door for third-person adventures, but the earlier game relied upon its good looks and lacked easy input control and depth of storytelling.

So Presto set off to build a game around Jack, a turn-of-the-century (19th/20th) adventurer out to track down his missing father whose expedition to the pole has gone terribly wrong. In the best Wells/Verne tradition, Jack discovers an underground world with an entirely unique social and eco-system. Three societies inhabit the underground – a Troglodyte world, a Morlock world, and an Insectoid world. Strangely, all three are biologically and socially connected, the questions to be uncovered are how are they connected and what are they up do?

Whether beefcake Jack will draw women to beneath the same way Tomb Raider's Lara captivated men is unknown, but Presto definitely has a grand vision for an adventure game in Beneath. Unfortunately, despite obvious enthusiasm behind their product, the first couple of times Beneath was brought in for demonstration to PC Games, there wasn't a whole lot in evidence to get excited about. These early alphas were all software rendered, there weren't any adversaries or creatures and nothing to explore but dingy mineshafts. What's more, the producers seem somewhat disdainful of the need for 3D acceleration in third-person games.

This week Activision trotted Beneath through the office again and we're happy to report there's a lot more there to talk about. First, Glide support was finally added a couple of weeks ago. Direct3D will come later, as well high-resolution versions of Jack, but the difference 3D acceleration brings to the game is enormous. Activision won't release updated screens, so we were forced to run the accompanying E3 SVGA screens, but we're happy to report that Presto's texture work is often stunning in 3D.

[…] Now for the targets. Presto still hasn't put many adversaries into the game, but at least we got to play with some early giant spiders and earwigs. They're still pretty stupid, and we'd still like to see how the Morlocks and Insectoids are coming along, but this is still progress."
Thanks to some previews published in gaming magazines at the time we know that Beneath would have been set in 12 different levels spread over 3 lost civilizations. The more players would descent deeper beneath the earth's surface, the more technologically advanced the lost civilization would became.
In the end Presto Studios were not able to keep up with creating their ambitious 3D adventure, being more used to developing pre-rendered point and click adventures, such as their The Journeyman Project series and Myst III: Exile. A full 3D action adventure game was not an easy task to create and competition was high, with many Tomb Raider clones releasing on Playstation.
Beneath was cancelled and in 2002 the studio was closed down, after the release of their Xbox title Whacked.
Thanks to Mark and Ross Sillifant for the contribution!
Images:
Video:
What do you think about this unseen game? Give your vote!
Would you like to add more info, screens or videos to this page? Add a comment below!
(your first comment will be moderated before to be published)
Latest posts by MicroChirp
(see all)