Hybrid is a cancelled FPS focused on high-level enemy AI and environment interaction, that was in development by Vulcan Software, planned to be released on PC. After working on many beloved Amiga titles, in 1999 Vulcan switched to PC development and started creating MOTHER3D, their set of 3D game development tools. Preliminary work on Hybrid started in late 2003 and in 2004 they released a tech demo of Hybrid through their website but in the end the project was never completed.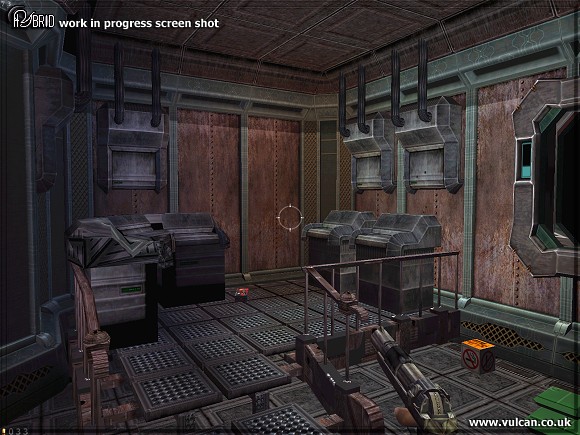 As we can read on their old website:
"Hybrid is Vulcan Software's first game to be entirely developed using their MOTHER3D engine, and will benefit from an impressive array of engine features, which include advanced physics, complex A.I. and fully interactive environments. […] There will be countless ways to kill, evade or fool the enemy characters, who will eventually possess A.I. systems that allow them to use the interactivity of their environments to their own advantage.

The player, equipped with a wealth of firepower must embark on a single-handed assault on the alien hybrid race that has killed both the crew of the NAVASOTA and the occupants of the research and mining facility on the moon's surface"
More details were shared by the team in a few interviews with IGN, GameGossip and HomeLan:
"Hybrid's combat system will be varied and change according to the environment the player finds himself in, and the type of alien he engages in combat. […]  Successful outcomes at this stage will be based on the player's ability to act in a subversive fashion, avoiding direct confrontation until more powerful weaponry is discovered, and instead using objects at his disposal to set numerous traps."

"Hybrid presents us with an opportunity to truly interact with our environment, and as a logical progression, introduce NPC's that have the same abilities to interact with their environment as the player. Well it's only fair, and along with that, makes for more challenging game-play if your adversary is well able to change the dynamics of a location, i.e. by turning off lights, opening and closing doors, moving objects around to create obstacles in your path, and then proceeding to hide behind or inside them. In other words we've upped the ante on the freedom endowed on the player, and mirrored this in the capabilities of the NPC's. "

"There will be opportunities for the player to modify weaponry to create more powerful versions, enhanced for specific uses, and there will be several weapons that can be set up in suitable locations and then operated remotely. The most powerful weapons will incorporate alien technology and will be available to the player as the game progresses. Examples of two such weapons are the DNA reversal gun and the force-field implosion gun.

Exploration will be a major factor of Hybrid, and blueprints of the locations involved will be made available to the player. There will frequently be more than one route through any one area, and as each will have its share of obstacles, it will be up to the player to identify the best route and to plan his advance accordingly, taking into account his current arsenal of weaponry and its suitability for destroying the alien types within each vicinity."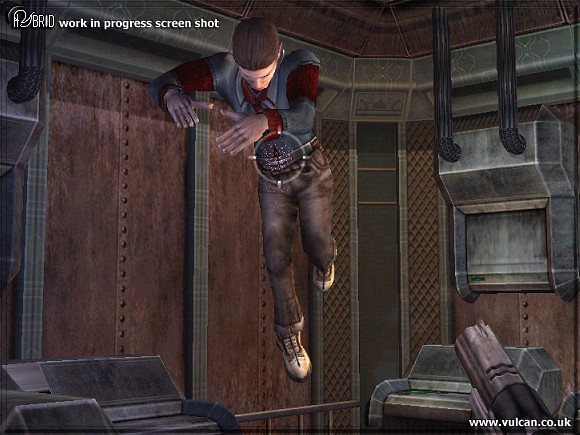 "The AI system is one of Hybrid's key features, as it's an area we felt is still open to exploitation within the FPS genre. To that end, the challenges have not been great, there are few examples of awesome AI for us to aspire to, and as a result, we're having a ball creating characters with skill sets, behavior patterns and even their own unique psychology.

Our enemy NPCs will not allow you to just shoot them; they will evade your fire, they will hide, or they will pack hunt if necessary – anything to push the odds in their favor. If a weapon is lying on the floor between you and an enemy NPC, don't expect it to act like it isn't really there; they are more likely to kick it out of your reach, or pick it up and use it against you."

"There will be a lot of friendly NPCs in Hybrid, and presented in a variety of circumstances. In some situations, you'll be faced with the responsibility of their welfare, especially those that are still alive within the mining facility. There will be options to aid in the rescue of some of the friendly NPCs, although it may be just kinder to put some of them out of their misery.

The importance of many of the NPCs however, is found in the psychological aspect of their presence within the aliens' hybridization laboratories. You will see them in many disturbing scenarios, there will be a degree of nudity, and some scenes will be verging on grotesque. This is designed to psychologically disarm the player, adding new dimensions of fear to the overall experience."

"We are science fiction fans, so it seemed logical to create a sci-fi themed game, drawing off our extensive experience of the genre gleaned through reading endless books and years of watching movies such as Alien, 2001, etc. Our previous games were the best they could be based on the platform they were created for… the Amiga. We adopt the same philosophy here and now; Hybrid is the best it can be in every respect for current high spec PCs.

It may be some time before Hybrid is seen on shop shelves. Development time is a hard thing to quantify, as constant release date slippages of other games tell you. The engine work is more or less complete, but there is a great deal of content work still to be done. I would imagine another year of development time at the very least."
Unfortunately it seems that working on such an ambitious project was too much for a team used to Amiga titles and in the end Hybrid was never completed.
Thanks to Daniel Nicaise for the contribution!
What do you think about this unseen game? Give your vote!
Would you like to add more info, screens or videos to this page? Add a comment below!
(your first comment will be moderated before to be published)