A Ghost in the Machine is a cancelled text / visual adventure game that was in development in the mid '90s by Presage Software, planned to be published by Dreamworks Interactive in collaboration with Steven Spielberg. The game was quite ambitious for its time, mixing a faux operating system, AI-dialogues, free-form investigation and multi-paths storyline. You could imagine its gameplay as a mix between Hypnospace Outlaw and Her Story: by using this "game software" players would be able to find emails, photos, videos and chat with the AI, to unveil the plot.
The game was never officially announced but the team worked on the project for about 2 years investing a million dollars. The only remaining proof of its existence are some details shared by former Presage Software developer Todd Daggert on his old website (now offline unfortunately):
"It is a real-time interactive story in which you, the user, assist events that transpire within your very screen. […] The point of this program is that it is just that — a PROGRAM (the "Ghost"), nothing more, nothing less. […] But unlike other software, this program will become self-aware and know its capabilities. It will communicate as your computer would, should it ever come to life and develop a personality. […] They will remain themselves, reacting naturally to unnatural behavior from their once-familiar computer.

The strength and beauty of this program will be in its creative use of the medium's shortcomings to further the authenticity of the events. […] The "Ghost" will have a totally dimensional personality, with character traits derived from a huge database of events and memories that will soon be shared with the user."

"This diagram illustrates the player's progression and flow of information as they work their way through the game. It was the first, highest-level pass of the interactive story."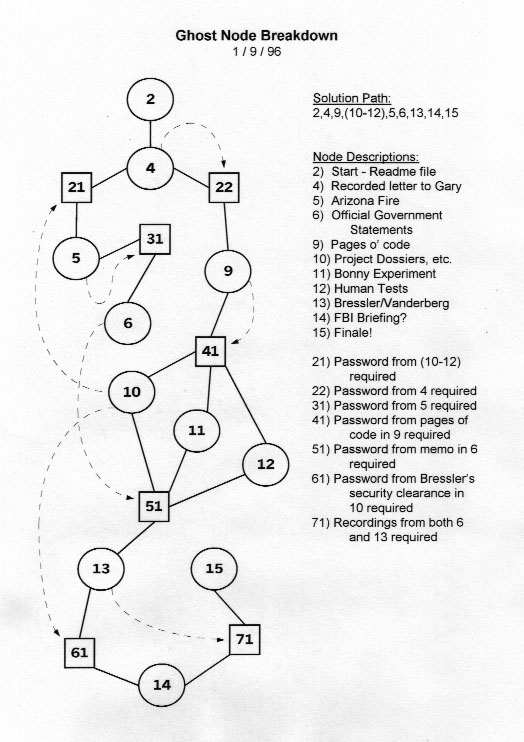 A Ghost in the Machine was originally conceived by Mike Kennedy at Presage Software, but after he left the company things became quite difficult for the remaining staff, with Dreamworks asking to make the game more similar to classic point & click adventures:
"[…] after the principal members of the first design team (including Mike Kennedy) departed from Presage I was brought in as the primary designer on a new team of designers and artists, to fuel it with new direction and "make something happen". I flew down to Amblin in Hollywood and hung out in Spielberg's office, played with his 3 foot high T-Rex model, and talked with Bryce Zabel, the Hollywood writer who was to go on to make "Dark Skies". Shifts in Dreamwork's staff had convinced them that our new direction needed more Hollywood involvement, so it fell to me to integrate the new story provided by Bryce, the new interface and elements desired by the Dreamworks producers, and the desires of management at Presage. "
The game's story would be built around the possibility of re-program one's mind artificially:
"Five enlisted soldiers were volunteered for the Bravo test sequence using the Legion Device.  The Langley research indicated that implanted programs could not be generically applied with any degree of accuracy, as each person's memory patterns were too unique for any single solution.  The BLV-50's Guido routine was modified appropriately.  The Device now would take a reading of the person's mind under a standard series of conditions elicited by a series of sequential stimuli involving color patterns, pictures and music.  The routine would adjust the recorded patterns by applying the desired program and then return the adjusted pattern back to the brain, now enhanced with the subconscious program."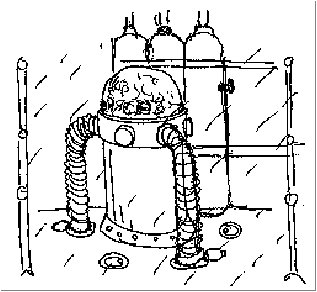 "A total of nineteen soldiers comprising both enlisted men and NCO's were taken to a subtropical test reserve in Florida and given explicit orders which contradicted the commands they were secretly programmed with.  These soldiers were broken into two teams, a "hunter" team and a "hunted" team.  The hunters were fully equipped and provisioned, though unarmed. The orders were for the hunted group to evade the hunters for a period of twenty-four hours.  If the two sides came into contact, the game was over, and the hunters had won.  Halfway through the game the commanders of both groups triggered the soldiers' programming, with encouraging results.  Fourteen of the nineteen soldiers (including all members of the hunted team) followed their programming over their orders, plunging through the dense forest with nearly superhuman speed and control to find a member of the opposite team to beat into unconsciousness.  Of the fourteen who followed this programming, twelve of them had no memory of disobeying orders, and only one suffered any injury from vaulting through the treacherous undergrowth."
In the end the project was managed by so many different people that it lost its focus:
"Despite my best efforts, there was no effective way to fuse the widely disparate visions of the three groups. Presage continued to hire and lose staff, as did Dreamworks, every new player bringing a new vision to the table. Design by committee is never a good thing, sadly, all of us would walk away unsatisfied by what Ghost became."

"After a two-year-long journey through the height of Siliwood that consumed a million dollars, two full design teams and three producers, Ghost was to end its rough-and-tumble life with a final cancellation. […] Halfway through 1996, Ghost's funding was cut off, Dreamworks walked away, and the project that we had known as Ghost came to an end. "
We would like to remember this cancelled project on this page, preserving what remains from a fascinating and ambitious video game we'll never play.
What do you think about this unseen game? Give your vote!
Would you like to add more info, screens or videos to this page? Add a comment below!
(your first comment will be moderated before to be published)