AOSphere is a cancelled point & click episodic adventure that was in development around 2008 – 2009 by Widescreen Games and Identifiction for their streaming-gaming platform on PC. At the time it was quite an ambitious and original project, anticipating both popular episodic games such as The Walking Dead (2012) and Life is Strange (2015) and live-streaming gaming services.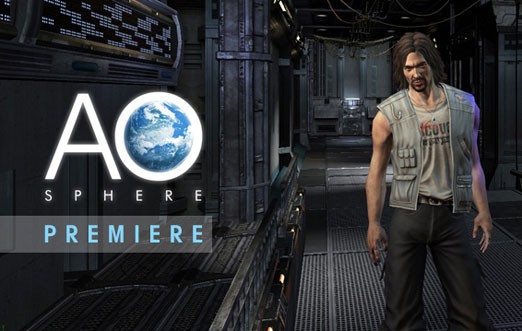 As we can read on GamesIndustry:
"The episodic videogame distribution channel www.identifiction.com will be launched on October 15. Heading the program: videogames that take the form of weekly episodes in streaming mode. This is a revolutionary new borderline concept between videogames and TV series.  Videogames that you can follow just like a TV series  The website www.identifiction.com will diffuse its videogames at a weekly rhythm. They are intended for adults seeking content that's original, irreverent, short and easy to access from any operating system and a wide range of computers (pc, mac, windows, linux, etc.).

The Aosphere series (Science fiction/adventure) will be available immediately the platform is onlined. The channel's catalogue will be enhanced by two more original series, due from the end of the 3rd quarter of 2008 and the beginning of 2009."

"Widescreen Productions is to launch a weekly episodic games portal in October, hoping to bring TV-style content delivery to the games business. While previous attempts at episodic delivery have been sporadic, Identifiction.com promises weekly episodes of 30 – 45 minute long game experiences.

Videogames must be capable of rethinking their narration, formats and genres," offered Oliver Masclef, creative director of Indentifictions. […] "By taking the economic model of the series with short formats and attractive subjects available at definite dates and times, we are aiming at all those who have turned their backs on playing videogames due to lack of time or boredom," he said. The first title for October will be the science fiction action game Aosphere, with the company planning two new titles for the end of the third quarter and beginning of 2009."
The AOsphere project and the Identifiction platform were initially postponed from October 2008 to early 2009:
"Initially scheduled for 15 October, the launch of the serial game AOsphere has been put off until January 2009. www.identifiction.com will nonetheless open with a beta version before the end of the year. The creative team will offer its first interactive serial exclusively to those registered.  "Since we're now finishing the production of the first season of AOsphere, it's vital to make sure we do it under the best possible conditions. That's why we're setting back the marketing schedule by a few months. This additional time will allow us to test our games and check the ergonomics of our platform."
In the end AOsphere seems to have quietly vanished, even their official Facebook page stopped updating about the game in February 2009. We don't know if Identifiction ever streamed any video game on their site, but by the lack of information available on its service (and the fact their website was put on sale the following year) we assume it was also never launched, canned and forgotten by everyone.
Some screenshots, concept art and footage from AOsphere are preserved in this page, to remember the existence of this lost project.
Thanks to Daniel Nicaise for the contribution!
Images:
Videos:
What do you think about this unseen game? Give your vote!
Would you like to add more info, screens or videos to this page? Add a comment below!
(your first comment will be moderated before to be published)