Tribes Extreme is a cancelled Starsiege Tribes single + multiplayer expansion that was in development for PC by Dynamix, around 1999. It was meant to offer a proper single player experience, with 12 campaign missions and a new tribe featured in the storyline. As we can read on the Tribes Wiki:
"In the game's campaign, the "Bone Ripper" tribe of Grievers has completely wiped out the player's holdfast (a military/civilian homestead where tribes members live), killing almost everyone. In the Greater Tribes, this is completely taboo – battle is highly structured, even ceremonial – you never attack civilians. The player must first rid his holdfast and surrounding area of remaining Bone Rippers, then seek revenge."
An interview with Tribes Extreme lead designer Scott Rudi published by IGN in October 1999 has some more details on the game:
"The single-player campaign in Tribes Extreme will continue to lean heavily on teamwork. The player will be in command of up to 7 other warriors to achieve the campaign goals. While each AI warrior will be relied on to fulfil its role (sniper, assault, defender, etc), the player can give specific commands to any if they feel it necessary. This way, we can offer a lot of fun for those who like to micromanage as well as those who just want to get in there and blast away."

"One last thing I should mention is that if you know someone who has been hesitant to get Tribes because of the online-only play (it is pretty scary for the newer user to go online with the experts), this is the game for them. By the time they complete the training missions and the campaign, they'll be ready to face off against the best out there. At the same time, the AI can be turned up by the advanced user (via campaign difficulty settings) to provide a real challenge. There's some great stuff for everyone in Extreme."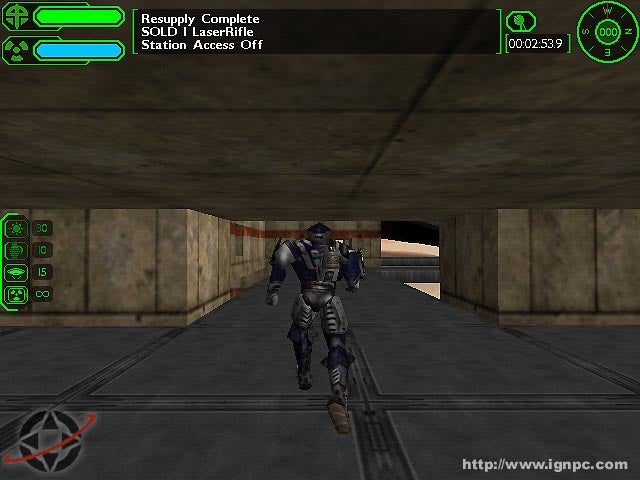 "Other than the 24 offline missions (12 training, 12 campaign), we're shooting for around 10 balanced competition maps and at least 10 general multiplayer maps (not including the Open Call submissions). The balanced maps I've described above. The general maps are pretty much the same style as what was released in Tribes, but many featuring new buildings. The nice thing is we've been able to pay attention to what works and what doesn't over the past months and put that knowledge to work in the new maps."

"We'll also be including what we call Cooperative maps, where players will be able to fight an AI team, or both teams can have human players supplemented with AI bots, depending what the server has specified. The first (AI team vs. human team) is intended to sharpen the skills of organized tribes in preparation for match play. Usually, people have had to scrimmage or do some other less-than-desirable thing to practice their team skills."
This expansion was officially cancelled in December 1999, when the team was not satisfied with the work done on the single-player content and decided to focus their resources on Tribes 2.
"Over the past several months, we've had two teams focused on two new Tribes entities–Tribes Extreme and Tribes 2. In the past few weeks we've been evaluating the status of both, and we've come to some conclusions. First, we've made the decision to cancel Tribes Extreme "The Retail Product." We had two goals for Tribes Extreme: To deliver a compelling single player experience and produce new multiplayer content for tournaments, etc.

Meanwhile, the single player component has taken us much longer to wrap our heads around than we originally anticipated and we just don't feel we have anything close to finished that would be worth charging for or releasing. However, we've learned a ton of stuff during the development of Tribes Extreme, and we feel that we have a insanely cool plan for the single player component in Tribes 2"
Thanks to Evan for the contribution!
Images:
What do you think about this unseen game? Give your vote!
Would you like to add more info, screens or videos to this page? Add a comment below!
(your first comment will be moderated before to be published)