Cloak: The Naked Mind is a cancelled adventure game that was in development by Sierra Entertainment around 1996 – 1997, to be published on Windows 95 PC. It was conceived as an ambitious (for its time) spy-fiction, sci-fi adventure, mixing thriller investigations with space-mind-travels.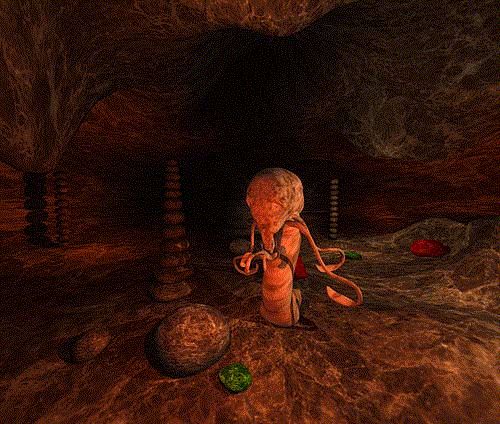 You would have been able to project your consciousness into a robot on an alien planet to resolve many different situations at the same time, using its multitasking skills. Some more information can be found in old gaming magazines, such as Interaction Magazine (holiday 1996 and fall 1996 issues):
"Imagine an alien race with telepathic  powers so strong that none of your secrets can remain hidden  from their probing. You'll find them in Cloak: The Naked Mind, a new  kind of adventure game coming from Sierra in early 1997."

"With Cloak, Sierra has  taken its trademarked adventure game interface  and revamped it from the ground up. Everything you see and do is completely new, seamless, and  phenomenally lifelike. The point of view is first-person — through your character's eyes — with breathtaking,  animated sequences and cutaways. Game play and puz- zles are integrated into a seamless experience. And the story reaches beyond adven-  ture into the realms of science fiction and spy thriller."

"In Cloak, you take the role     of a secret agent on the planet Altopia.  You've been strapped into a telepres- ence pod — a kind of virtual reality  environment — and linked to a highly developed, bipedal robot code- named Cloak.   After you've bonding to the Cloak, the robot is transported to a trading world where humans and the mysteri-  ous, alien Bulbs interact to trade human-manufactured robots for Bulb technology. There, you must find a way to the Bulb's forbidden home planet,  where no flesh-and-blood aliens are allowed. Your mission is to delve into their mysterious way of life and discov- er if they are building a secret weapon  to use against humankind."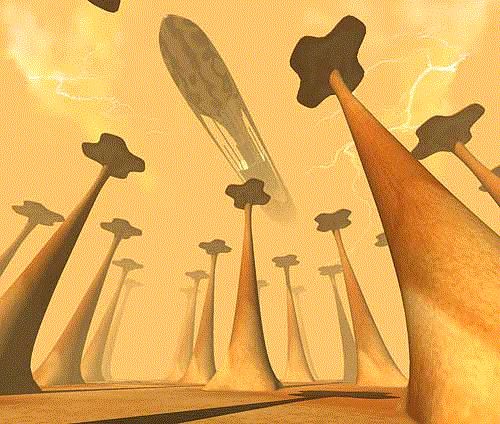 "The Bulbs can read any biological  mind. Fortunately, they cannot read your mental signature inside the Cloak     robot. Because you will stay bonded to the Cloak until your mission is complete,  you are safe as long as you stay undis- covered. Remember that if the robot is destroyed, there will be no way to  retrieve your consciousness. You will be — in every sense of the word — dead."

"The Cloak robot you occupy is an  extraordinary device that not only conceals your consciousness, but  contains tools that give you super- human abilities. Bipedal and roughly humanoid,  this type of robot is highly valued by the Bulbs both for its versatility and for command over  other robots. Operating its many sensors and attached devices allows you to do several things at once,  such as monitoring a security camera you planted in an abandoned ore mine, while using your command influence  to interrogate a robot bartender."

"Cloak pioneers  new game technolo-  gy that takes advantage of the  Windows 95 multi- threading technique Multi-threading is a clever 32-bit way to make a computer do many dif-  ferent things at once, so you can play one aspect of the title while another loads. There is no waiting on game play.  (Utah sports an exciting new triple- window interface that lets you engage in three distinct activities at once. You can, for instance, spy through a  camera you've planted while explor- ing the abandoned mines of Baccos and consulting a map."
Gameplay could have been quite interesting with these multitasking puzzles, and by reading previews it sounds like Sierra had at least a playable prototype in their hands. We hope one day someone could find a copy and share it online to be preserved by fans.
Images:
What do you think about this unseen game? Give your vote!
Would you like to add more info, screens or videos to this page? Add a comment below!
(your first comment will be moderated before to be published)