MediEvil Legends is a cancelled hack & slash developed by ChocChip Moose team for Sony as a part of the MProf Games Development course. This prototype was based on a brief given by Sony to students of the course with plans to possibly fully developed it into a PSP Mini commercial release.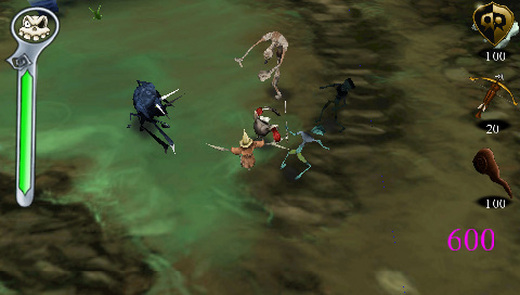 While this should be considered a course-prototype and never announced by Sony as an official MediEvil game, some details were found online by fans:
"For the second semester, we were given the task of developing a small prototype by Sony that could be carried over and fully developed for sale as a PSP Mini game. The game was part of the established Sony franchise MediEvil and the concept was Dan retelling the story of his heroic deeds in the form of tall tales to his fellow heroes that the player had to relive. It took the form of a simple 3D top-down hack and slasher with humorous dialogue and banter between the listening heroes and Dan. This game was also developed in PhyreEngine."

"The gameplay was a linear set of enemy waves, each wave getting progressively harder by spawning more enemies for longer periods of time. in addition, the final prototype contained 5 different enemy types, each with their own strengths and weaknesses. The zombies, numerous and weak, the mummies, rare but significantly tougher and hard-hitting, Scarecrows, extremely fast and agile, Headless zombies who run in straight lines very fast across the map, bouncing off walls and providing both comic relief and a surprising hazard, and Shadow Demons, deadly, fast and tough.

Waves were interspersed with humorous dialogue between Dan recounting his tale, and the heroes listening in, chiming in with their own comments and version of events, mocking and supporting Dan's achievements."
In the end sony never completed the MediEvil Legends prototype into a full PSP game and it soon became a lost and forgotten project.
Video:
What do you think about this unseen game? Give your vote!
Would you like to add more info, screens or videos to this page? Add a comment below!
(your first comment will be moderated before to be published)