Yamabushi is a prototype for a PC stealth-game cancelled around 2001. The project was in development by True Dimensions, a portuguese team formed by Diogo Teixeira, Márcio Martins, Marco Vale, Mário Luzeiro, Tiago Sousa and Vítor Marques. Yamabushi was conceived from an original idea by Marco: their goal was to develop a game about ninjas set in feudal Japan with an accurate depiction of the era, a credible story while keeping gameplay interesting for fans of the genre.
Development started around 1999 with a small tech-demo, to demonstrate their skills. This demo was internally known as "Blood & Honour", a name that was later changed to not be associated with the homonym political group. Setting their focus on realism True Dimensions collaborated with Gonçalo Rosa, instructor of the Bujinkan Tsuru Dojo in Carcavelos. The team asked Gonçalo to review their script, to be sure their story wouldn't have any inaccurate information. In Yamabushi players would follow a hypothetical scenario deeply rooted in Japan's history: it was very important to create this sense of realism, to let you believe that this story could have truly happened.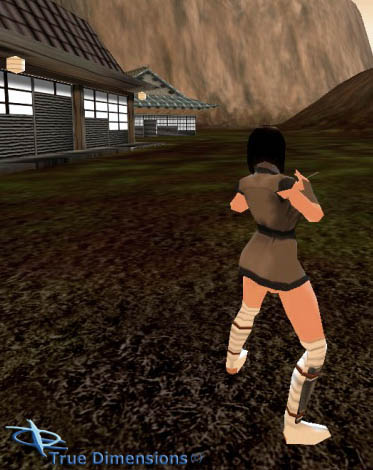 Inspired by games like Tenchu and Metal Gear Solid, the team went after the idea of making a stealth game. The plot unfolded around two ninjas: Kazuya and Kimiko. The first was conceived by Marco and the latter by Vítor, reusing a design from another earlier project. Yamabushi was set around the 13th century: Kazuya and Kimiko are two children from the Yamabushi family, a group despised by most people because part of them lived as thieves, ronins and killers, under the name "Yamabushi Raiders". They grew up as normal children, even if their community was estranged by society. Unfortunately their family was attacked by samurais, as they were regarded as a threat for the safety of the locals. In that attack their parents and most of their family were killed.
Kazuya and Kimiko managed to escape and wander together through the woods for several days, until they found a small village. Seemingly deserted, the village actually belonged to a ninja clan. They welcomed the kids and trained them to become ninjas, helping them fulfilling their destiny to avenge their family.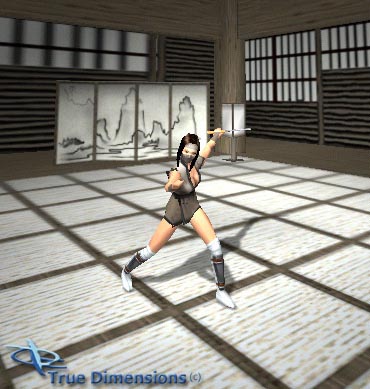 In the end True Dimensions were not able to develop a full game out of their Yamabushi prototype, but screenshots they shared online piqued the interest of other developers and gamers, managing in a way to start-off the actual Portuguese developers community.
True Dimensions worked on other tech-demos in the early '00s, like TrasD (2001), Homo-Machus in Space (2002) and Illuminatu (2002). These demos served as their portfolio pieces and were determinant in making them choose the area of videogame development as their future.
I'd like to send special thanks to Marco Vale for his time and help in writing this article, to remember their lost project.
Article by Jump/Error, original version in Portuguese!
Images:
What do you think about this unseen game? Give your vote!
Would you like to add more info, screens or videos to this page? Add a comment below!
(your first comment will be moderated before to be published)

Latest posts by Jump/Error
(see all)