Invasion is a cancelled massive online multiplayer shooter in development by Turbine Inc (mostly known for other online games such as Asheron's Call and Dungeons & Dragons Online) for Playstation 2 around 2003. The team worked on a single-player prototype to test gameplay using Driver-Inter's proprietary engines, but in the end the project was cancelled, probably because of difficulties in creating a proper MMO game on the 6th generation of consoles.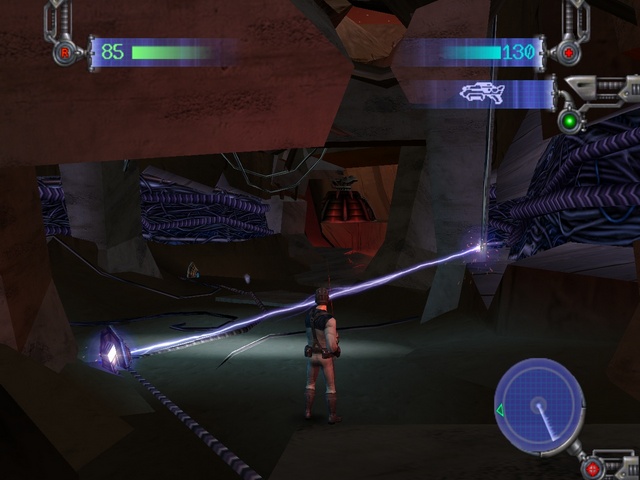 As you can see from the prototype footage and screenshots preserved in this page, the game was quite impressive for its time, at least graphically. Some details about Invasion can still be found on Driver Inter's website:
"Invasion is a third-person shooter where player searches an abandoned Martian colony for its secrets in order to prevent a menace of an alien invasion on Earth.

The game is a demo with several types of weapons, powerups, enemies, quest items, an NPC that requires protection from player and a boss at the end of the last episode. The demo contains three episodes in three different areas: abandoned outpost, canyon and underground lab.

This project was a first stage of development of a unique massively multiplayer online game (MMOG) "Invasion!" where players were expected to:

Explore and defend a Martian-invaded earth
Guide "smart actors" who experience the world as a personalized sci-fi epic
Fight creatures great and small in entertaining monster movie battles
Evolve new abilities, new body parts, and new ways to play the game

The MMOG project "Invasion!" was cancelled.
In 2010 Turbine was acquired by Warner Bros and renamed WB Games Boston, working on MOBA Infinite Crisis and smartphone versions of  Batman: Arkham Underworld and Game of Thrones: Conquest.
Thanks to Mihapsx for the contribution!
Video:
Images:
What do you think about this unseen game? Give your vote!
Would you like to add more info, screens or videos to this page? Add a comment below!
(your first comment will be moderated before to be published)