Forgotten Castle is a cancelled action RPG in development by Twin Dolphin Games around 1992 – 1993, to be published on PC by Electronic Arts. The project was quite ambitious for its time: a fully 3D explorable fantasy world in early '90s was something amazing to see in screenshots (The Elder Scrolls II: Daggerfall was released 3 years later) and the game was previewed with high hype by many magazines. CDs were not much used for PC games and this would have been released on 9 disks, quite a massive size for '90s games.
As we can red in Forgotten Castle's preview from Edge (issue 1, 1993):
"Twin Dolphin's Forgotten Castle could take the RPG action adventure into a new realm. Forgotten Castle is a PC showcase of spectacular quality. The Ferrari of fantasy roleplaying games. If you can imagine this detailed cityscape scaling and rotating smoothly around you, you're about one tenth of the way to grasping the graphic flair on display. Twin Dolphin are working wonders on the PC.

There's a huge playing area to discover with an enormous range of environments. Check out the falling water that flows into the gutter. It's lovely. The dungeons are equally well presented with detailed graphics and unrivaled angles of perspective. Skeletons wait for you in there, too. Walk through the village and then turn and look in one of the windows for a realistic 3D interior. There's complete freedom of movement, unlike The 7th Guest. And the scaling graphics leave you breathless.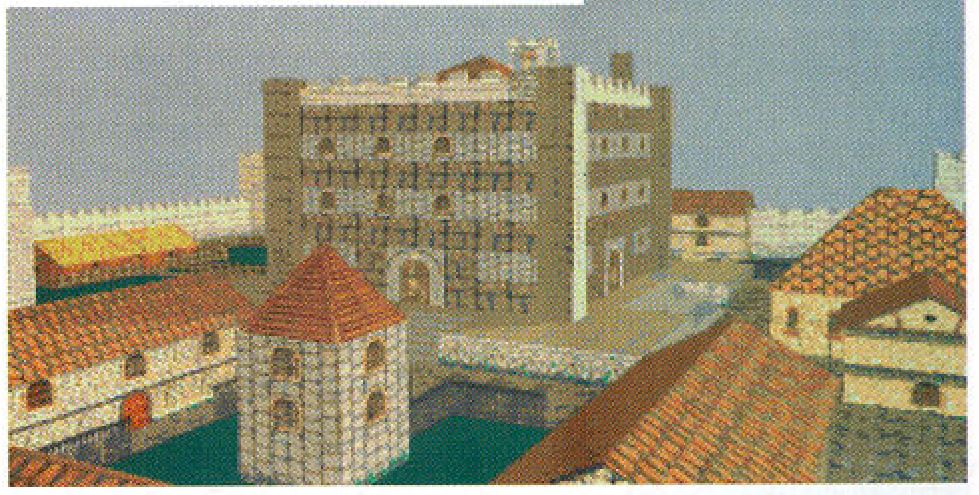 There is a wealth of different environments including streets, caverns, crypts, and creepy dungeons. Everything takes place in real time, too, and there's an 'invisible' interface to help out, without bogging down the screen in icons. You click on the mouse and something dies, basically. Okay, there's lots more to it than that but the feel of the whole thing is action-orientated. It's designed to appeal to a wide range of players, and as such, might not meet the grey matter-testing requirements of diehard Dungeon Master and Ultima Underworld fans.

So what's it all about then? The story unfolds like this. You're a prince on an epic quest searching for your father, the last true king of the land of Alonia. Evil rules where justice once prevailed etc, etc, and you have to travel to the city of Hedburg to defeat the monsters and 'foul Ruzakian hordes' that have taken over the town."
As you can imagine, Forgotten Castle was way too ambitious for a small team like Twin Dolphin. Clay Graham who worked on the project wrote on his blog:
"Twin Dolphin Games was creating a Virtual Reality game on the PC for EA Games. There was only one Oracle Tower down the street, and as a startup things were very different than the large glass covered offices of SOM. We were scrappy, and as the company's "Virtual Architect" I was responsible for building all the spaces and experiences for their 3D Dungeon Adventure. "Forgotten Castle" was very innovative visually, but the company made a bad choice in their game engine and it failed completely."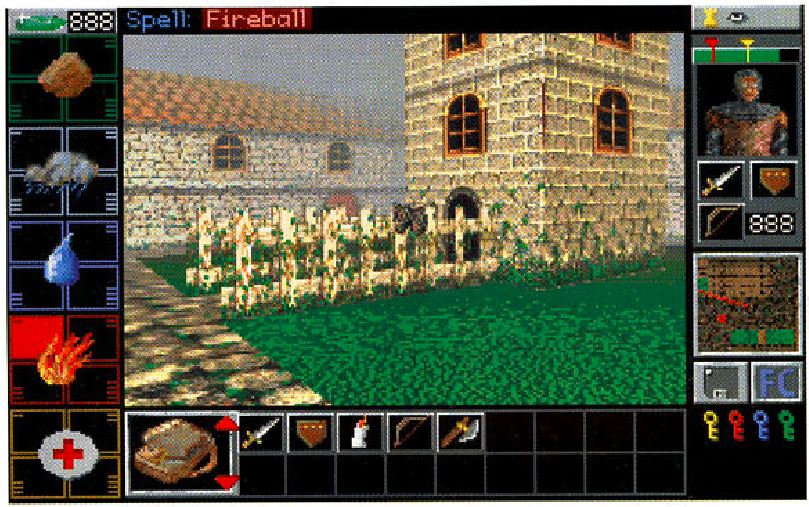 More details about Twin Dolphin's failure to complete the game and their difficulties with the 3D engine were published on issue 164 of Compute! Magazine:
"The news hasn't been good for what looked like a promising entry in the Ultima Underworld school of free-scrolling RPGs. Twin Dolphin Games' Forgotten Castles, which looked dazzling at its unveiling at last summer's CES, has run into the computer-game equivalent of the tuna net. The EA affiliate was to have delivered the game last November, but delays in finishing the 3-D engine and interface ultimately led to the withdrawal of the company's main investor in late October. Matters were further complicated by the departure of the game's chief engineer in early December, according to president Steve Ruszak. Twin Dolphin Games itself probably won't last beyond the summer, but there are other fish in the sea, and Ruszak reckons Forgotten Castles – which is 60 to 70 percent complete – may yet surface. Both it and the 3D engine are for sale as a package, and he's optimistic the company will find a buyer."
As far as we know, no other publisher ever bought the IP or 3D engine from Twin Dolphin and the studio soon closed down for lack of money. Forgotten Castle was lost forever and as its name hinted, it was indeed forgot by everyone.
We can only hope former Twin Dolphin developers preserved files of their lost games, to share online in future. If you know someone who worked on this cancelled project, please let us know!
Thanks to pcloadletter for the contribution!
Images:
What do you think about this unseen game? Give your vote!
Would you like to add more info, screens or videos to this page? Add a comment below!
(your first comment will be moderated before to be published)