Ruff'n'Tumble is an action / platform game developed by Wunderkind and published by Renegade in 1994 for Commodore Amiga. In the game you play as Ruff Rodgers – a kid with big multi-type ammo gun who was transported to another strange world ruled by evil robots. Ruff 'n' Tumble was made by a joint-venture team of just three people who wanted to create the perfect action game for Amiga: Robin Levy (graphic, System 3),  Jason Page (music, Graftgold, Sensible), Jason Perkins (code, Vivid Image, Renegade, Virgin, Gremlin). After the release of Ruff 'n' Tumble Wunderkind never released any other game. Thanks to Grzegorz we can learn more about the beta differences from the early versions of the project.
Ruff 'n' Tumble development started in 1993: the first preview was published in "CU Amiga" magazine in August 1993. At the time the game was titled "Rough 'n' Tumble", but maybe it was just a print error.
In this screenshot we can see a possible beta of World 2 mine/cave theme with lava. It could have been just a mock-up, in the final game there is no mine cart tracks, no carts with robots and the protagonist does not have that standing idle sprite.
The next preview is from "Amiga Format" magazine, December 1993.
Now game has its final name "Ruff'n'Tumble", level titles are the same as in the final version and that jump sprite is still in the game. There is a first beta HUD.
Interesting beta stuff can also be found in "Amiga CD32 Gamer" magazine  from June 1994: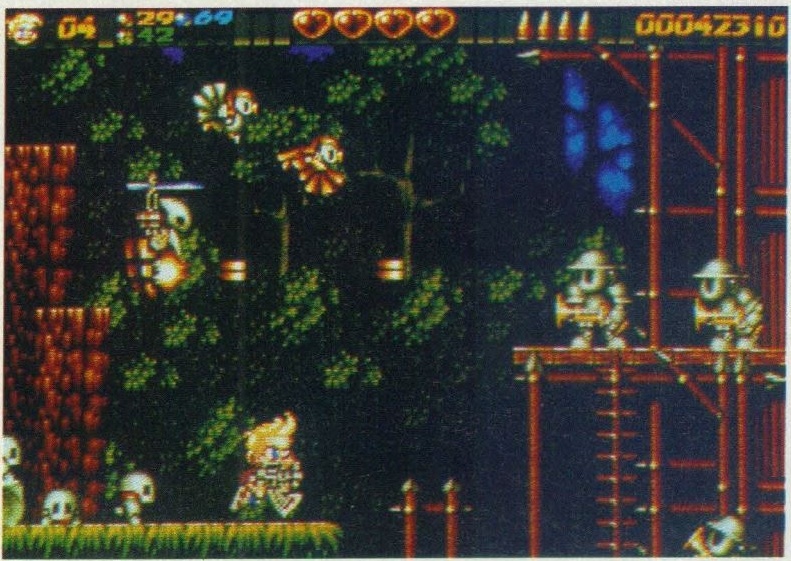 This is an early version of world 1 – forest and tunnels. There's a beta HUD with added ammo counter.  Rock / earth platforms on left of the screen are not seen in the final version, also the grass at the bottom was changed: this one is simple and flat while the final one is more lush.  The building on the right of the screen are from World 2. At the top there are two robot-birds not seen in final game. In the preview we can also read that the game was planned to be released for Amiga CD32 too, but in the end it was only released on floppy disks for personal computer Amiga 500.
Another preview can also be found in "Amiga Format" magazine from June 1994:
In this screenshot World 1 has the final version of the grass, but the sky is crimson red instead than the blue one in the final version. In the description they wrote that there would have been three different versions of the game.
Another preview screenshots are from "CU Amiga" magazine from June 1994:
In this preview they wrote that you could jump on robots to kill them, but in the final game it would only hurt you. The second screenshot is from World 3 (factory theme) – two unseen robots on the left one with a big head and one that looks like a UFO. In the first screenshot on the left there's a robot on a flying rocket bike, but this is never seen in the final game. Those platforms on the big trees are also unused in the final version.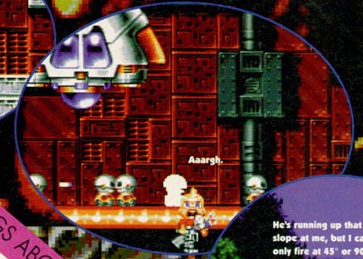 In this screen from boss of World 3 there are some with some kind of wheels, but in the final version they just float above ground.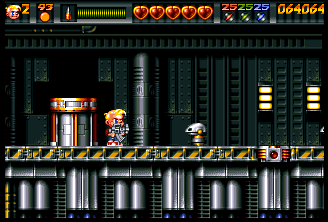 Here's how the robot drones look in the final version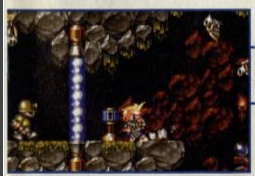 Here you can see a beta version for the robots in the mine, they had legs
And these are the same robots in the final game.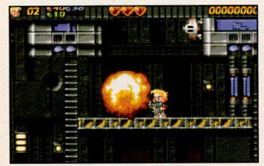 This beta robot seems to drop bombs, something that does not happen in the final game.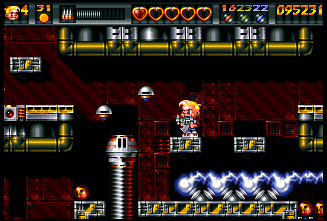 In the final version that same robot spawns these homing mini-ufos. In the beta version it was attached to walls and dropped bombs, but in the final version he can hide in the floor and ceiling.
You can also download a beta demo for the first level, with different layout and sound effects (it requires a real Amiga or WinUAE to play)
In the following gallery you can see even more beta screenshot, with beta enemies and levels.
Thanks again to Grzegorz for the contribution!
What do you think about this unseen game? Give your vote!
Would you like to add more info, screens or videos to this page? Add a comment below!
(your first comment will be moderated before to be published)

Since 2001 Unseen64 archive beta and cancelled videogames, till the 7th generation of consoles. There are too many unseen games to preserve, but many people help us with their contributions, screens, videos and descriptions.
Do you want to help too?

Latest posts by U64 Staff & Contributors (see all)