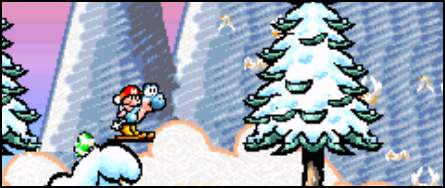 Is it snowing outside? Are you waiting for xmas presents? Well, the Unseen 64 Staff is going in vacation, too! From the 24th of December this site will be in "Winter Break Mode", we are going to relax somewhere around the world and dream about beta games while we are playing  near the fireplace or skiing down the mountains.
In the last few months it was an hard time for U64, with all our server problems and the high cost of traffic, we had to search for more donations and for a cheaper server. At last we were able to find a good server for cheap, but it had a monthly bandwidth limit.. so we had to "close" the site to not going down and only U64-members were able to login.
Sadly if we would have not "close" the site, all our monthtly traffic would have been used, and the site would have go down for EVERYONE. No one could have seen the site untille January. With the limited access, at least some people had the possibility to still check our latest updates and such. It was not an easy decision, but it was the less problematic in the end. We are happy to know that our work is appreciated by more and more people, but this was exactly the big problem: we had too many visitors lately (almost 2.000 a day) and they consume lots of bandwidth: with the current straffic-limit, it was only a matter of time before the site would have gone down.
Later we had some talk with our server provider: they are really a lovely group of geeks, they made us a great offert so we should be able to re-open the site for everyone soon and this time we should have more bandwidth.
Obviously there is still the 2009 server-bill to pay, but thanks to all the people that have donated for the cause (Gilgalegrouik, Stereo, Miccha & Shoyz), we were able to pay most of it already! We still need to rise about 120 $ but we are hopefull to reach that with your help. If 120 visitors would donate 1$ each, we'll be done! :) Donate 1$ now to support U64!
After this long explanation, it's time to enter in the Winter Break Mode: but don't worry! We'll be back the 7 of January with all the updates and news from the unseen videogames world. In the meantime, there are still lots of things to do while we are away:
– Look and read: Check our archive of beta and cancelled games and our articles.

– Contribute: Do you have any info, screens, or videos from a beta or canceled game? Send us a message!
– Talk: Join the U64 Forum to discuss about unseen games and read updates from other users!
– Share: Do you have a website or a blog? Spread the unseen! Add www.unseen64.net to your blogroll or in your links page, write a post about lost games, talk about U64 with your friends, and share your beta-geekness. If more people know about this site, we could have more contributions and the archive could grow with more screens, videos, and informations!
– Play: it's xmas time, probably you got some new games.. go play them! Then, try to check early screens and videos from those games.. maybe you could find some unseen differences ;) If you plan to play PSO DS in these xmas holidays, probably monokoma is going to play it so you'll be able to play with him too. Join the U64 Forum to share your friend codes!
– Donate: the best gift for this xmas? Another year full of unseen games! Donate your love to U64, to help us to pay for the server that will keep up the site for the next year.
[donateplus]
Thanks to everyone that supports U64 with love. See you all very soon!
What do you think about this unseen game? Give your vote!
Would you like to add more info, screens or videos to this page? Add a comment below!
(your first comment will be moderated before to be published)

Latest posts by U64 Staff & Contributors
(see all)