A friend of mine found this interesting article in a page of the italian The Games Machine (thanks to Dagho, and to Old Computer Mags!).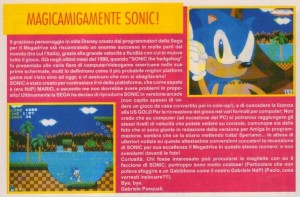 The article explains that US Gold bought the rights to port the original Sonic The Hedgehog to Amiga, PC and other platforms (probably C64). The fact that surprise me is that TGM actually provided some screens of the Amiga version! Here is a VERY fast translation of the most important passage:
"[…]Recently, Sega decided to port Sonic to arcades (it's not usually to see a home console title ported to coin-op!) and to grant the license to US GOLD for the recreation of the game in various computer formats. I doubt that on computer (except for the PC) they will achieve the same levels of speed that you can see on console, however, judging from the photos that arrived in the office, it seems that they'are doing very well![…]"
Onestly, they seems too mock-up to me…
Also, Rod_Wod found another interesting rumor from computer and video games uk mag 1990/91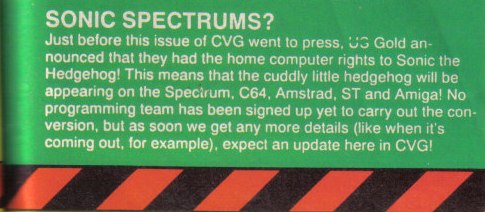 What do you think about this unseen game? Give your vote!
Would you like to add more info, screens or videos to this page? Add a comment below!
(your first comment will be moderated before to be published)

Latest posts by U64 Staff & Contributors
(see all)