Early beta screenshots of Paper Mario / Super Mario RPG 2 showed that Poochy was going to play some sort of role in the game. Another screenshot showed that Nep-Enuts were going to be in this game also. Also the early version of Forever Forest showed that it would be much smaller, with all the forest's trees having sinister faces. Paper Mario was also originally going to be named Super Mario RPG 2, though due to complications involving Square Enix, the makers of Super Mario RPG: Legend of the Seven Stars, the name was changed to Super Mario Adventure and later Paper Mario. Also, it was originally in development for the failed Nintendo 64DD. However, it was released in cartridge. A screenshot had also shown a strange, beta Whale. [Info from Mariowiki]
Also, in an Iwata Asks interview, they shared a super early Mario RPG 64 concept: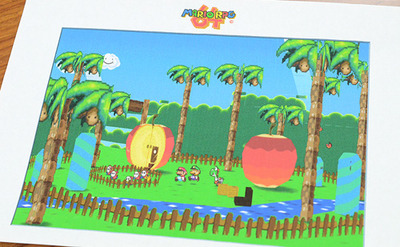 Yeah, we really did. And most of all it was a Mario game! We couldn't determine the route to take with visuals. At first, we broke into teams and worked in parallel on making about three sample models.

Oh, it's from 15 years ago on March 5, 1997.

It's made of 3D polygons, but I drew it to have an atmosphere like that of a picture book transplanted into a video game—with paper-thin 2D background and characters.
[Thanks to Henrique Resende for the contribute with some images!]
Images:
Videos:
What do you think about this unseen game? Give your vote!
Would you like to add more info, screens or videos to this page? Add a comment below!
(your first comment will be moderated before to be published)

Latest posts by U64 Staff & Contributors
(see all)