Early beta screenshots of Paper Mario / Super Mario RPG 2 showed that Poochy was going to play some sort of role in the game. Another screenshot showed that Nep-Enuts were going to be in this game also. Also the early version of Forever Forest showed that it would be much smaller, with all the forest's trees having sinister faces. Paper Mario was also originally going to be named Super Mario RPG 2, though due to complications involving Square Enix, the makers of Super Mario RPG: Legend of the Seven Stars, the name was changed to Super Mario Adventure and later Paper Mario. Also, it was originally in development for the failed Nintendo 64DD. However, it was released in cartridge. A screenshot had also shown a strange, beta Whale. [Info from Mariowiki]
Also, in an Iwata Asks interview, they shared a super early Mario RPG 64 concept: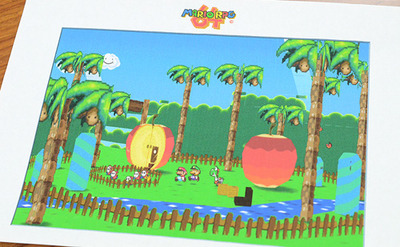 Yeah, we really did. And most of all it was a Mario game! We couldn't determine the route to take with visuals. At first, we broke into teams and worked in parallel on making about three sample models.

Oh, it's from 15 years ago on March 5, 1997.

It's made of 3D polygons, but I drew it to have an atmosphere like that of a picture book transplanted into a video game—with paper-thin 2D background and characters.

[spoiler /Clicca qui per la versione in Italiano/ /Nascondi la versione in Italiano/] Paper Mario è ormai diventato un brand molto famoso, ha dato vita ad un'importante serie parallela, ma quando venne presentato per la prima volta, allo Space World 97, i dubbi erano tanti: non avrebbe dovuto far rimpiangere il primo episodio della serie "RPG", sviluppato da Square; non avrebbe dovuto macchiare il nome che portava; sarebbe dovuto essere, soprattutto, un valido rappresentare di un genere che, su Nintendo64, era malamente rappresentato.
Paper Mario non fu solo questo, ma anche un sapiente puzzle di elementi che da soli non si sarebbero mai incastrati senza la sapienza degli sviluppatori, gli Intelligent System. Come potete vedere questi primi screen sono molto diversi dalla versione definitiva, ma sono interessanti da osservare proprio per la loro natura primordiale: i personaggi e gli ambienti erano ancora scarni e non avevano la minima qualità che avrebbero acquistato col tempo, però è evidente che la decisione di creare un gioco che fondesse assieme la grafica bidimensionale con quella poligonale era già stata presa nel 1997.
Gli oggetti e i paesaggi sono meno dettagliati di come sarebbero stati al momento dell'uscita, datata 2000 in Giappone (2001 in USA ed Europa), Mario è più una trasposizione diretta delle illustrazioni dell'era 8-bit che la figura minimalista che sarebbe diventato, però la coerenza dell'intero progetto, molto lungo (era il primo gioco poligonale della società), è innegabile. In questa versione beta sembrano essere presenti molti personaggi presi da Yoshi's Island.[/spoiler]
[Thanks to Henrique Resende for the contribute with some images!]
Images:
Videos:
What do you think about this unseen game? Give your vote!
Would you like to add more info, screens or videos to this page? Add a comment below!
(your first comment will be moderated before to be published)

Since 2001 Unseen64 archive beta and cancelled videogames, till the 7th generation of consoles. There are too many unseen games to preserve, but many people help us with their contributions, screens, videos and descriptions.
Do you want to help too?

Latest posts by U64 Staff & Contributors (see all)