Retro Studios struggled in its early years, dealing with several cancelled projects and lay-offs. In 2000, Nintendo offered the company the license to the long-dormant Metroid franchise which proved to be a turning point for the company. [Infos from Wikipedia]
One of the GameCube games that were cancelled to concentrate  the team on the development of Metroid Prime, was this NFL Retro Football, that was basically a traditional football game with impressive graphic and animations for its time (and a rumored create-a-player mode).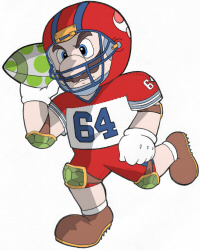 Initially this project was meant to be a Mario Football game,  but Nintendo wanted Retro to create more "mature" titles (that's why they created the team) so it soon became a realistic / real world sport game. The concept above was not created by Retro Studios, it was just a drawing done by OptimalProtocol for an N-Sider article, to show what the game could have looked like.
Images:
Videos: