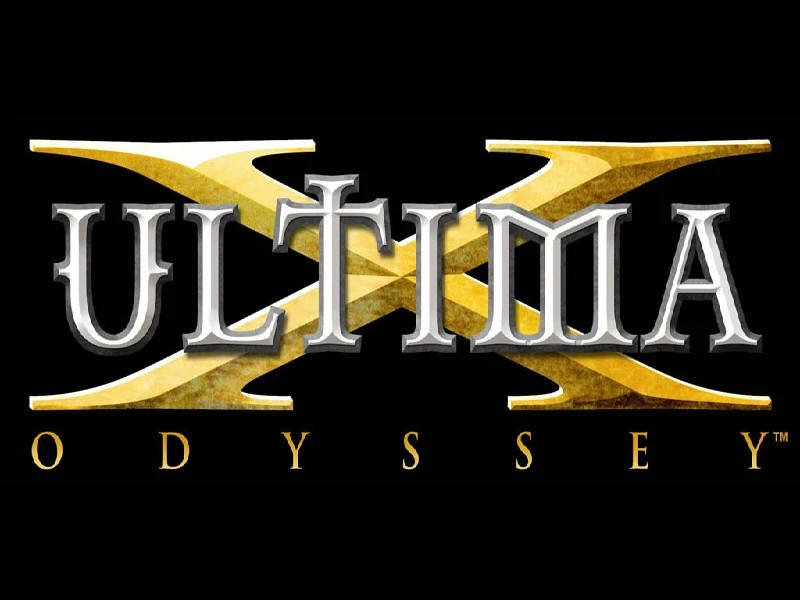 Ultima X: Odyssey is a canceled fantasy Massively Multiplayer Online Role-Playing game developed from 2002 to 2004 by Origin Systems and published by Electronic Arts, exclusively for PC. It was based in the Ultima universe.
Ultima X: Odyssey was officially announced in August 2003, as we can read on Gamespot:
Electronic Arts' Origin Systems development studio has today announced that the next game in its Ultima series will be a massively multiplayer online role-playing game powered by the latest version of the Unreal Engine. Ultima X: Odyssey will boast a number of features not found elsewhere in the genre, the most intriguing of which is the "Odyssey Adventure System," which will deliver customized quests to players automatically, and will also allow players to request private adventure zones so they're not interrupted by uninvited troublemakers.

"Ultima X: Odyssey takes the genre to the next level through its innovative new Odyssey Adventure System, ensuring that players experience a greater sense of adventure and reward from both questing and combat," said Andy Hollis, vice president and COO of Origin Systems.

Ultima X: Odyssey will feature fast-paced strategic combat in which players' actions will play as big a part in determining the outcome of a battle as their characters' strength. Players will be able to choose their level of aggressiveness and a variety of combat styles, and while individual combat will be the most common, rival player guilds will be able to challenge each other to gladiator-style duels in privately created zones.

As they progress through the game, players will be able to customize not only their character, but also their inventory, party, and guild–in ways never before possible. Examples given in today's press release include players enhancing their weapons and armor using virtue abilities or experience points, and the existence of magic items and weapons that actually gain experience and level up in the same way players do.

Players who manage to master any of the eight virtues in Ultima X will gain the ability to use special powers and, eventually, create disciples for themselves. Upon mastering all the virtues, players will attain the ultimate status of "avatar."

Ultima X: Odyssey is currently scheduled for release this winter.
The story begin at the end of Ultima IX, when the Avatar (the hero) and the Guardian (the villain) merged together at the climax of their final battle. Ultima X: Odyssey's story begins with the Avatar and the Guardian struggling for control of the god-like being that they have become. The Avatar is losing this battle and creates the world of Alucinor, a place where adventurers can journey to and learn about the Virtues just as the Avatar did during his travels in Britannia. But, because the Guardian also has great influence over Alucinor, he has created his own minions to thwart any would-be heroes.
In November of the same year, lead designer Jonathan Hanna was interviewed by Gamer.No and shared a few details on some of the upcoming features for the game:
G.N.: With the implementation of Virtues and good vs. evil, will there be any player killing involved, and if so, how will this be carried out in Odyssey?

J.H.: (…) Players can challenge each other to duels that are tracked through a robust ladder system. In addition, guilds can challenge each other to large-scale battles. These battles will take place on private maps, preventing outsiders from interfering with the battle. Also, players can wager gold and items on duels and guild battles, making them even more interesting. Combined with our highly interactive and action-packed combat, PvP in Ultima X: Odyssey will be a blast!

G.N.: What lore, political elements, stories and legends will be a part of Odyssey? In essence, what is going to make us feel that we are actually in an Ultima game, and where in the Ultima timeline is the game set?

J.H.: Everything about this game screams Ultima! From the character races (which include Gargoyles, Orcs, Pixies, Humans, Elves, and Phoda – a race based on the Fuzzies from previous Ultimas) to many of the points of interest, you'll find plenty of references that hearken back to the Ultima games. More importantly, our entire adventure system is centered around making decisions based on the Ultima Virtues. For example, you might be asked to slay a Minotaur Lord who has been raiding a local farm. When you find him, you learn that his people are starving. At this point, you could demand Justice and fight the minotaurs, or you could show Compassion and help them find a new food source. In keeping with the previous Ultima games, neither Virtue choice is the wrong choice – they're just different. They will, however, lead you down different paths of the adventure, as well as determine the abilities your character can learn. Eventually, as characters continue to advance they can even ascend to the level of the Avatar, the ultimate fantasy hero!
However, troubles occured in February 2004, when EA took the decision to disband Origin Systems and relocate the team, from Austin, Texas, to Los Angeles, as we can read on Gamesindustry:
Publisher Electronic Arts is reportedly planning to shut down its Origin Systems development studio in Austin, Texas, and is offering staff at the studio the choice of relocation to California or a severance package.

Origin Systems is best known for its work on the classic Ultima and Wing Commander franchises, and the move to relocate the studio's staff comes as part of a wider consolidation of EA's development efforts.

The founding of a new development campus in Los Angeles has already seen the Westwood studio being shut down, while the relocation of the Maxis studio to Los Angeles was announced last week.
In June of the same year, Electronic Arts pulled the plug for Ultima X: Odyssey:
Today Ultima X: Odyssey was summarily pulled from the production schedule by publisher Electronic Arts. The game had been on track for a 2005 release, but rumors of trouble had been swirling around the project for some time.

In a post on the official UXO Web site, producer David Yee gave the game an epitaph of sorts. "As of today, development on Ultima X: Odyssey has ended," he said. "This isn't an easy decision but it's the right move for the future of all things Ultima, including the community and the team."

Yee said the reason for the decision was to "focus our online efforts, and most of my team will be moving to the UO expansion pack, the UO live team, and an unannounced Ultima Online project." GameSpot was told by another source within EA that no staffers were laid off as a result of today's decision.

Formerly under the guidance of lead producer Rick Hall, Ultima X: Odyssey went through an evolution when its design and development staff were recently moved from EA's Austin, Texas, studio to the company's main Redwood Shores campus. At that time, Hall relocated to EA's Tiburon studio, and UXO was placed in the hands of Yee.
According to some sources, Ultima X: Odyssey was definitely cancelled during the relocation of staff members from Texas to California, as many of them decided to resign instead of moving homes and families. In 2011, Justin Olivetti wrote on Engagdet:
Reportedly, one of the biggest reasons behind the project's death was EA's decision to relocate the Austin, TX team to California, a move at which many devs balked. With the relocation a failure, the game's development was hobbled and EA felt it had no choice but to give it the axe.
Ultima X: Odyssey wasn't the first Ultima MMORPG to be canceled. Years prior, EA canceled Ultima Worlds Online: Origin in order to focus on development of expansion packs for Ultima Online.
Videos:
Images: