Gruesome Castle: Gee Whiz! Mystery Club is a cancelled adventure game that was in development by Gee Whiz! Entertainment for PC around 1998. It was announced as a ground-breaking project, the "first true 3D graphic adventure", planning to "combining the 3D freedom of Nintendo's Mario 64 with the classic adventure game play of LucasArts' Monkey Island series" with cartoon horror setting and multiple protagonists, somehow similar to the Scooby-Doo cartoon.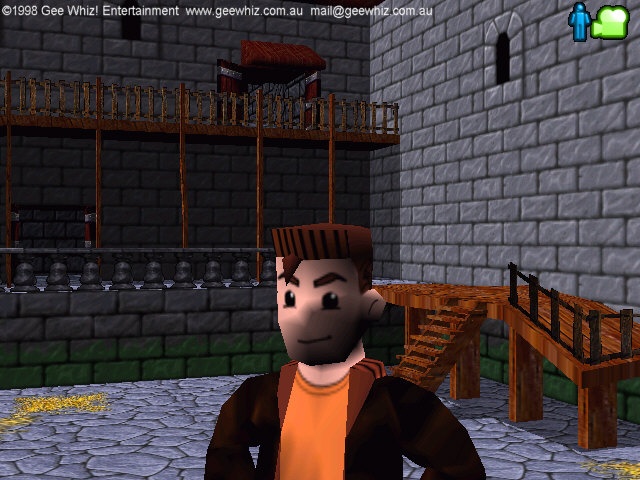 As we can read on the old Gee Whiz! website:
"Gruesome Castle follows the exploits of Jake and Anna King and their pals Skip, Wendy, Brad and Jeepers the dino-monkey. Together they form the Gee Whiz! Mystery Club – an adventurous gang of teens who travel the world solving mysteries.

Their latest adventure brings them to England where they are to visit their cousin Edward at Gruesome Castle. Upon arriving they quickly discover that Edward has gone missing and that the castle is haunted. It's up to our intrepid team to solve the riddle of the ghost and uncover the dark mystery of Gruesome Castle.

Game play features:

1) Taking control of Jake, players can explore a large castle with scores of rooms, including a Dungeon, Hedge Maze, Vast Underground Catacombs and a Spooky graveyard

2) Each location is very large with dozens of characters and objects to interact with

3) Witty dialog via a conversation system that allows you to talk to all the game characters

4) Inventory system lets you examine and manipulate all of the items that you find during your adventure

5) Ability to read books allows you to read from the extensive library and uncover the dark secrets of Gruesome Castle

6) Dynamic cameras in every room give a cinematic feel to game play with pans, tilts and dollies. Players can change from the default mode to any of the many alternative viewing modes allowing them to place the camera where they want it.

7) Includes a Bonus Mystery Quest mode where you seek out the Mystery Club Bonus Items that are hidden throughout the locations. Recovering all the Bonus Items reveals a secret room

8) Look around mode allows you to look at the 3D location from any angle"
A playable prototype was uploaded online some years ago, so you can take a look to see what the team had in mind for this lost project.
Images:
Videos: