Cartel is a cancelled FPS game that was in development in 2002 / 2003 by Cat Daddy Games (mostly known for their Carnival Games series), planned to be released on PC and possibly on Playstation 2 and Xbox. As you can assume from its title, you would have played as a DEA special agent against the drug cartel. The team wanted to offer a simple gameplay mixing first / third person shooter with light strategy mechanics.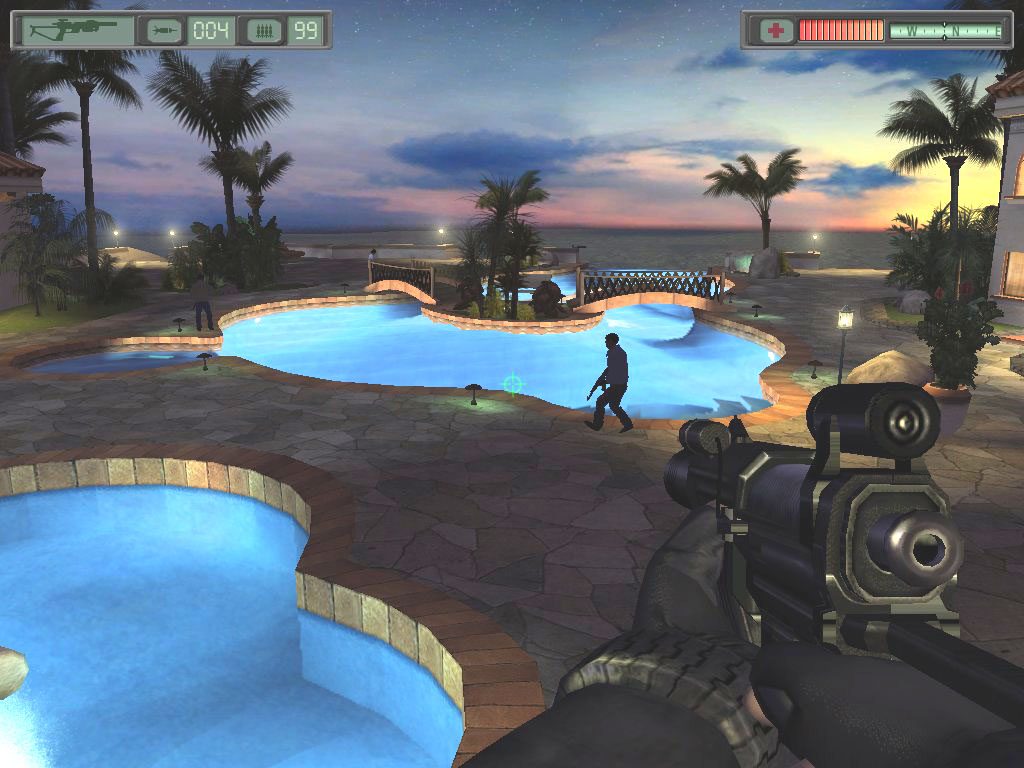 In an old interview published on HomeLAN we can read more about their hopes for the project:
"HomeLAN – What can you tell us about the storyline for the game?

Harley Howe – We wanted to do a thriller. It has a big twist just about the time you think you've figured out what is going on and you're about finished, you're not.

HomeLAN – What sort of settings and locations will be seen in the game?

Harley Howe – Our team over the last few years has built content for several AAA titles that were released under other company's logos. We really know our stuff here and one of the big separating factors of our game will be the unique environments. What we see in most of the existing games out there now is a lot of the same old thing rehashed over and over. You got your warehouse level, your barracks level, your factory…etc. We wanted to bring a new look and feel to the environments in Cartel. Our game will offer plenty of new and exciting environmental eye candy for the player. We promise you will almost smell the stench on some of them.

HomeLAN – What kinds of weapons will be featured in Cartel?

Harley Howe – Ok, the guy doing the weapons is always yapping about 'my bothers a seal, my brothers a seal" so we most definitely have some nice weaponry. We feel that weapons are one of the single most important components of a 1st person shooter. One big point here to make is the style of the Cartel story lends itself well to new weaponry. As we are doing with the levels we also wanted to take advantage of some of the newer technologies out there and give the player some neat effects to the weapons that they have never seen before. My 12 year old son will run around and play a game just to pick up all the different guns to see the way that each of them shoot, err wait that's me, anyway good weapons will be in abundance.

HomeLAN – What can you tell us about the game' s multiplayer features?

Harley Howe – I can tell you that if it did not have multiplayer I personally wouldn't play it myself. Today you have to have good multiplayer or the game has a very limited appeal. Attention to the layout of the multiplayer levels will be done in great detail. A good level can make or break it. We also have had multiplayer built in to our engine from day one so it's not something that will be approached as an afterthought."
In early 2003 they released a tech demo for Cartel, but the same year the team was acquired by 2K Games and the game vanished. Only in 2005 Cat Daddy officially announced the project was suspended. We can assume when 2K bought the team, their parent company decided to switch their resources on less ambitious games.
Thanks to Dan for the contribution!
Images:
What do you think about this unseen game? Give your vote!
Would you like to add more info, screens or videos to this page? Add a comment below!
(your first comment will be moderated before to be published)