Aquanox is a series of action / shooter / simulation games set in a distant future in which humans mostly live underwater and use futuristic submarines to explore the ocean. It all started in 1996 when Massive Development released Archimedean Dynasty / Schleichfahrt (considered as the first chapter in the saga) then in 2001 the same team published AquaNox and a couple of years later they delivered AquaNox 2: Revelation. All the games were published for PC only and even if there are some basic differences between the 3 titles, they always had a mix of "flight" simulation, shooting and RPG gameplay: players were able to fight their way in 360° underwater combats, shoot down other submarines, conquer enemy bases, talking with NPC characters, explore the sea to find hidden treasures, complete different mission objectives to gain more money and upgrade their vehicles.
A new chapter in the Aquanox series was planned for Playstation 2 but unfortunately it was cancelled when it was almost completed. As always the project was in development by Massive soon after the release of AquaNox 2, when JoWooD (their parent company at the time) wanted to enter the console market and deemed Aquanox as the perfect game to start. Initially Aquanox 2 was ported to PS2 but it did not fit the new hardware and controller, being not that much fun to play. To secure a great console debut, Massive Development took the next 2 years to create a completely new game, as a third chapter in the series, that would have been titled Aquanox: The Angels' Tears, with new missions, features and storyline.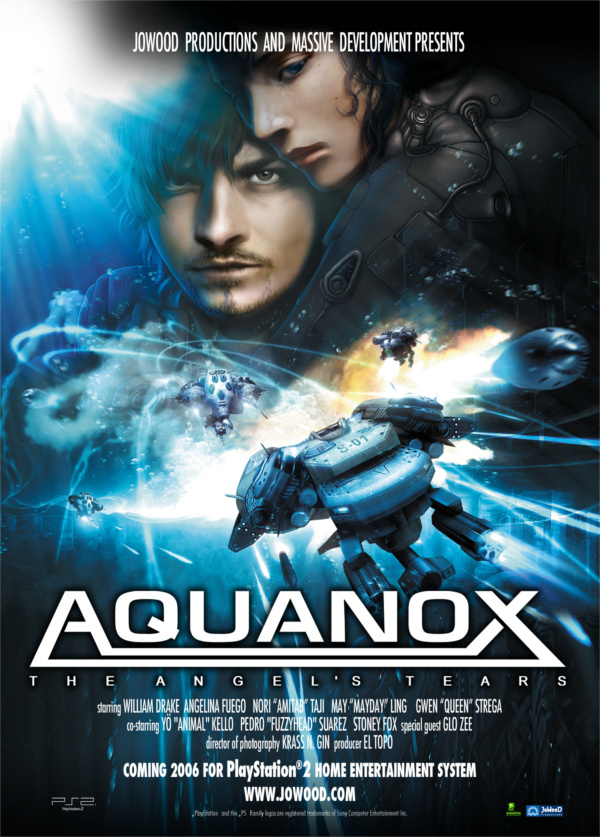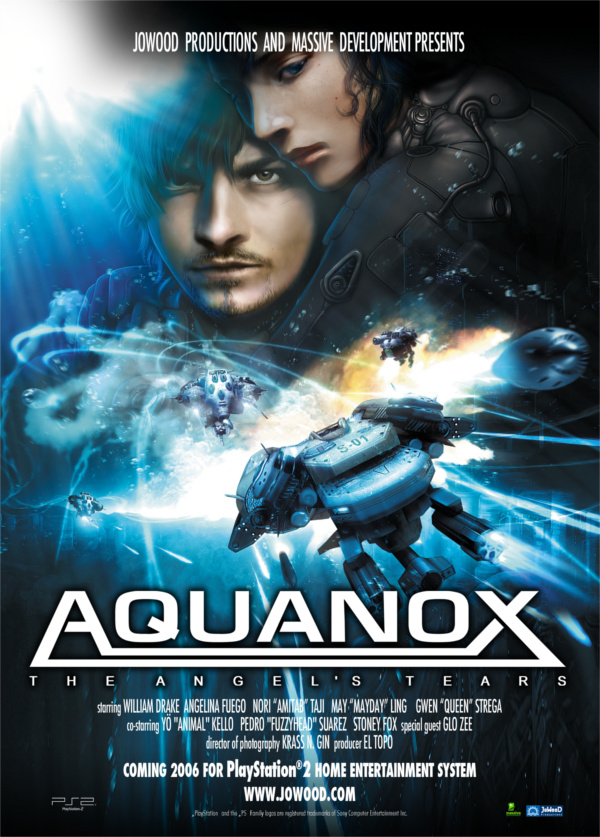 As we can read in the official press-release for the game:
AquaNox: The Angel's Tears is the story of an action packed treasure hunt, presented as a playable under-water road-movie. The game is a fast-paced 3rd person shooter, where the player steers his vessel through the depth of the oceans 3000 meters under the sea, 650 years into the future, 300 bars of pressure. The sun is a fading legend of former centuries. Nobody has ever seen it. Man now calls this world: 'Aqua'. Eight humans crammed into a freighter. Eight mercenaries, shrouded in mystery, hunting for a legendary treasure. Eight hunters dreaming of the Angel's Tears. This dream will change them – and history. The greatest love story of their time!
Angel's Tears would have featured fast paced underwater shooting along with a mature storyline divided in 32 main missions set in the deep seas of Aqua, an advanced score and experience system, 4 submarine ships with different stats and tactical uses, fully upgradable weapons and other equipment to improve player's chance to survive to the hardest missions that were planned.
Massive Development wanted to make Angel's Tears the best Aquanox game ever, but unfortunately in 2005 JoWooD was on the edge of going bankrupt: they had to cut a lot of their cost and decided to close down Massive Development as the new AquaNox was already 99,9% done. At this time the Aquanox: The Angel's Tears was submission-ready to be accepted by Sony and to be officially published on PS2, but the devs wanted to polish it up more before to release it as their last game, so they introduced a few easy bugs to make it fail the first submission. When AquaNox PS2 failed the Sony submission the situation at Massive Development got even more sour as JoWooD refused to pay all their outstanding wages. Because of this the project wasnt handed over properly at closure of the studio and nobody was able to finish it although it was really 99,9% done. AquaNox: The Angel's Tears was forgotten for many years, hidden away in some directory, until Nordic Games ended up with the rights to Aquanox and all its assets after the insolvency of JoWooD in 2011.
Nordic Games got in contact with Unseen64 to share some of the documents they found about Angel's Tears and we are now able to preserve more screens and videos from this lost game. People that were interested in Angel's Tears will be happy to know that this is not the end of Aquanox as Nordic Games though the series deserved another chance and conceived a new project: Aquanox Deep Descent, a complete reboot of the Aqua saga taking into account the scientific advances made since the first game.
As a love letter to fans of games that will never be, Deep Descent will not only revive the AquaNox experience after the lost Angel's Tears, adding 4 players coop mode and an even bigger ocean to explore, it will also integrate assets and research from another cancelled THQ underwater action game known as Deep Six, originally planned for PS3.
We are happy to see a team like Nordic Games to understand the importance of preserving lost videogames and huge props to them for the help in saving more documents from the cancelled AquaNox: The Angel's Tears! We can't wait to see what they will be able to do with Aquanox Deep Descent, a project that could take the series to a new level and will became a memento to remember two interesting cancelled games. Aquanox Deep Descent was fully funded a few days ago thanks to a successful Kickstarter campaign but you still have a week to support the project with your pledges and be able to play this game as soon as it will be released!
Super thanks to Nordic Games for the contribution! Also thanks to Manuel Hansen for additional support
Images:
Videos:

What do you think about this unseen game? Give your vote!
Would you like to add more info, screens or videos to this page? Add a comment below!
(your first comment will be moderated before to be published)