Doom Absolution (AKA Doom 64 2) is the cancelled sequel to Doom 64, that was planned by Midway San Diego & ID Software to be a multiplayer-focused game developed for 2 players deathmatch mode (as the first game's multiplayer mode was removed) , somehow like what happened with Turok Rage Wars, the multiplayer-only Turok that Acclaim released on Nintendo 64  to follow the GoldenEye deathmatch craze. As we can read from an interview with Aaron Seeler (lead programmer for Doom 64):
At that time, as dm purists, most everybody involved thought it silly to play dm split screen, where you could see everybody else. So, we chose not to do it. 007 beat the crap out of Doom 64. Quite a regret.
Doom Absolution was officially canned in July 1997, when the project was still in early development (Doom 64 was released in March/April 1997) and sadly there are no images to be preserved. It seems that the game was cancelled because the Doom engine looked dated at the time and they decided to work on Quake 64 port instead, a "newer" fully 3D FPS that could have had sell more copies within the market.
Is interesting to notice that originally Doom 64 was started as a project called "The Absolution" but the title was later changed for brand recognition. Still "The Absolution" was reused as the name of the last level of the game.
We tried to get in contact with some people from Midway San Diego that worked on the original Doom 64 and its sequel but with no luck, if you know someone that could have more info about this cancelled Doom game, please let us know!
Images: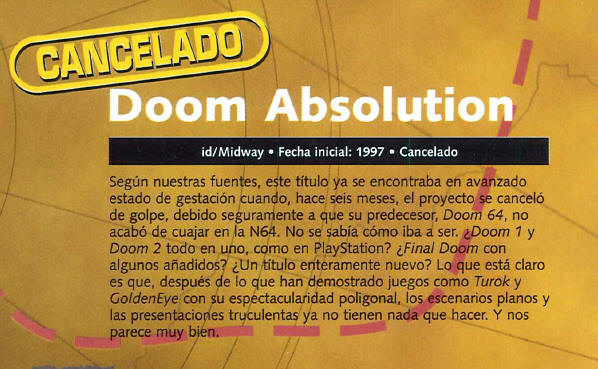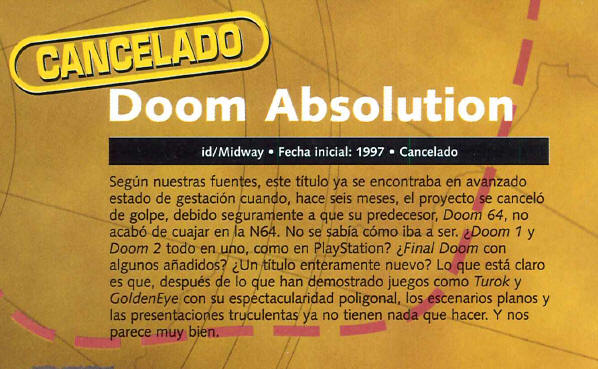 What do you think about this unseen game? Give your vote!
Would you like to add more info, screens or videos to this page? Add a comment below!
(your first comment will be moderated before to be published)