Borderlands is a science fiction FPS with RPG elements developed by Gearbox Software for PlayStation 3, Xbox 360 and PC. The game was originally revealed in the September 2007 issue of Game Informer magazine. [Info from Wikipedia] When the game was shown again in April 2009, Gearbox changed the graphic style of the game using a "cell shading" technic, that they like to call "Concept Art Style", instead of the original "realistic" look. Some of the beta places and characters seen in the early screens are not be present in the final version or were heavily changed.
Beta Version: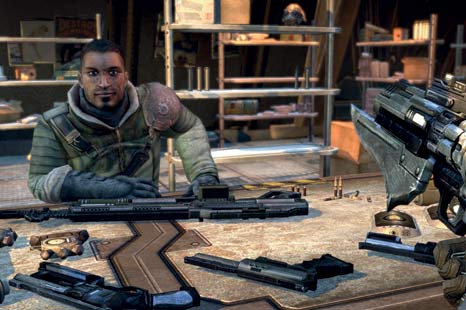 Final version:
Also, in the final game's code are still hidden lots and lots of beta unused elements, as we can read from Celice posts in the Cutting Room Floor Forum:
There's also the old Doctor Zed along with his old textures, but for some reason the new textures are applied to the model :/ A bunch of male and female villagers from the early version can also be found here, along with some interesting bandits, like one that's apparently a spawner? and a jetpack guy. The old Elite Bandits were reused as Krom's design. Also, a bunch of the internal names are different, like Scooter's original name is Brock, and Steele's redesigned character is named Helga (the old Steele is still present with Steele as the filename).

I know a bunch of early audio footage was salvaged from this folder, but these filenames seem almost just as telling as the audio files themselves. One of the in-game signs mentions a mine, along with two other locations.

Also, Lilith is in a lot of files for some reason. And in the Salt Flats, that big saw-thing might have been a boss–at least, that's included in some of the files. Could have just been a designation as the boss-piece–but the piece in question doesn't resemble the actual saw you climb up and fight Flynt on at all (also Flynt's name is Larry :p ). Some mobile treads are included in the files. There is also a shovel-apparatus instead of a saw in the files as well–quite interesting!

[beta map that can be seen in the gallery below] This shows the Salt Flats in the north-west, New Haven in the west, Old Haven in the east, the Scrap Yard is the yellow area, and I don't recognize the other letters. Trash Coast/Pirate Bay (Treacher's Landing) seem to be somewhere else. This is a whiteboard drawing, probably an early planning phase? Interesting layout at least!

In the e3 2008 video, we see a section of land, but I don't remember what the guy called it (Randy Pitchford?). He did mention that the previous year, they had shown Salt Flats privately at another show. A big long-shot would be to compare the old e3 2008 video with this whiteboard map and see if any of the shapes seem to match. The map shown in the video seemed much more verdant than the final game, so it could have been anywhere really.

And for the audio files, after a little more rummaging, they don't look to be that interesting :/ The Interludes are the area with Mad Maxx and Baron Flynt, and the other areas are similarly named differently. The editor's area names match the audio file names.

And I forget what folder I found the texture, but there was an early load-screen mockup that showed four characters standing with their experience levels, and some flavor text at the bottom about how many kills a character god. I guess the loading screens were gonna be a bit more stat-centric. In the level editor the loading spawn maps have the four characters spawn in the same arrangement. In an early test map, there was also a wonky image of an early player inventory. Everything was distorted, and it looked pretty basic. The main weapon loadout was the same though as it is in the final game, though the arrangement was a bit different. Menu text was also present, but too hard to decipher.

In the test folder are more early materials. There are a few different skins for the original car, but most of the models are missing, and if they aren't, their textures are. However, this hover car seems to have survived pretty well! A final hover car is in the game, but I haven't found it myself just yet (other people have found it, along with a tramway shown on one of the bulletin boards).

Apparently at one point Pandora was to have its own asteroid belt orbiting it, visible during the day. Kinda like that ring-thing from the Halo games?

Speaking of the e3 2008 video, I found the character models for Roland, Modecai, and Lilith, all in their original designs. The interesting thing is that Roland has three different costumes. The original Siren, apart from the blonde hair, also wears an outfit striking similar to Tannis–personally, I think the original Siren's design became Tannis. A later trailer for the game still shows the three characters, but Roland appears to have the darker skin, and Lilith now looks like the Steele character, who's final file's internal name is Helga. Did The Siren become two other characters before her final design was settled? Interesting stuff to consider.

Another interesting thing is the Character Salix, who is also included with some of the Siren assets. She's in the final-game assets too, but retains her old design. That would've made four different Siren's, at least, in the active development cycle, with Salix being the only NPC version. And she ultimately wasn't used :p Maybe she'll show up in the sequel? I found various assets for a dam in the game, and that showed up in the second one :p

There's also a lot of temple-like pieces, like generic Aztec-temple stuff, called Worker's Temple. Dunno if it was just a place-holder; a lot of remnant level pieces are very modular, kinda like TimeSplitter's map maker–their more like cell pieces than actual models.

In the Temp\Cinematic folder, there are placeholder for quests. In the e3 2008 preview, Randy said each character would have their own private stories to explore, so maybe the characters were more story-centric earlier one? Modecai can be seen in one of the placeholders, along with Helena and Roland. The old Scooter name is also referenced (Brock), so he was evidentially around at this time too, at least in name. Speaking of Helena, in her old files, she's internally referred to as deal_breaker, which is interesting. This head has a different hair style than the bun-look showed in the 2008 trailer and final deisgn (and in this preview shot). Her iconic scars are present in all three versions of the character though. Wonder if it was thematically tied to the deal_breaker name? Double-face? Huh.

Speaking of the dark-helmet, in the sound assets, there is a sound for night-vision helmet stuff. And there are also files for stamina and encumbrance; an old hud asset (older/different than the e3 2008 hud and the hud asset mentioned earlier) has places for stamina. There were also two types of grenages

A bunch of other food items are also in the game, including a bunch of fresh vegetables growing in the soil!

If you jump over to Rust Commons East from Rust Commons West, you can activate a quest marker for activating the radar dishes; a building also has a different layout, as well as a marker for a quest board and a WELCOME sign not present in the actual Rust Commons East. An indicator of an older development state of the area? A huge path is open as well, connecting the very north with the rest of the level, which is barred off with cliffsides in the final version. If you go to the radar dish closest, you can activate a computer which completes the northern-radar dish quest normally meant to be accessed in the actual Rust Commons East. Both radar dishes actually have their switches active, and in different places than their normal locations in the actual Rust Commons East.

Also of interest are a few oil pumps which buttons not usable, across both Rust Commons East and West. They are present, but not usable. Old assets of a defunct quest, maybe? Speaking of defunct, in New Haven, once you try to repair the claptrap, there is a dahl repair kit on a rooftop near a white chest. You can pick it up, but it doesn't activate the quest marker for the repair kit; in the editor, this repair kit is activated with some scripting, but I don't know what the stuff indicates or means.
Thanks to Iven Allen for the contribution!
Images:
[Gallery=1295]

Videos:


BETA/Prototype Story Clips:


BETA/Prototype Enemies:
What do you think about this unseen game? Give your vote!
Would you like to add more info, screens or videos to this page? Add a comment below!
(your first comment will be moderated before to be published)

Editor in Chief, UX & SE Optimization
at
Unseen64
I'm an
Italian gamer
with
not enough free time
to play as much as i'd like to and
sadly not enough time
to write about cancelled and beta games.
Founder of Unseen64 in 2001
, i'd like to sleep more than 5 hours a day, but i have to pay the bills. I'm currently working for various italian & international websites for a better
User Experience & Search Engine Optimization
, you can add me on
Twitter
,
Last FM
or contact me by
email
.