Top 5 DSi Games That Will Never Be Released
13
Jul
2012
With the hundreds of great DSi games released every year, it's hard not to think about the titles that gamers never got the chance to wrap their thumbs around. Whether they were completed or cancelled before they got to grace our handhelds, here is a list of top five DSi games that will never be released. There are so many great DSi games from Tesco and other retailers, yet alas you won't find these 5 in any online store :(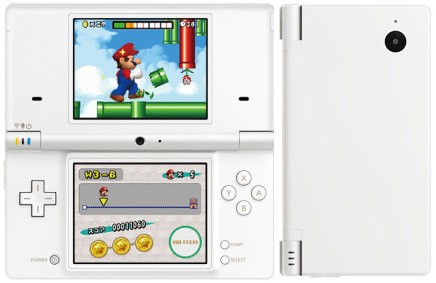 5. Moonlight Fables: Moonlight Fables was a side-scrolling action-adventure that was originally slated as one of the first DS exclusive games to be released by a western publisher, Majesco. The gothic-fantasy followed the story of 19-year-old werewolf, Trista Silver, who would fight tooth and claw through seamless levels. Players would use the device's touch-screen to change the phases of the moon in order to unlock Trista's special werewolf attacks, with wireless network play also planned. Unfortunately, due to a major developmental overhaul midway through production, Majesco put a silver bullet through the title and Trista's adventure never saw the light of day.
4. Space Agency: The action-RPG from Audio Inc, formed by Akira Ueda of Shining Soul series fame, was set to put players in the space suit of a new Space Agency recruit, an organisation that defends the galaxy from space pirates. Players would visit planets and raise skills, including oddly enough, table manners. Space battles and answering rescue calls were also speculated parts of gameplay. Despite a glowing resume, Ueda was unable to procure a publisher for his space adventure, likely due to the poor sales of previous Audio Inc titles, Contact and Sakura Note.
3. A Boy And His Blob: Majesco strike again with this sequel to the original 1989 NES game that followed a young boy and his cleverly named blob, Blobert, on a side-scrolling platformer puzzle escapade. Feeding Blobert different flavoured jellybeans, via the DSi's touch-screen, would transform him into an array of items, instrumental in completing the plethora of puzzles that stood in the way of the duos duty to defeat an evil emperor. Despite being finished and displayed at E3 2005, the boy and his blob were officially squished in 2007 amongst Majesco's financial problems.
2. Gauntlet DS: Another blast from the past comes with Gauntlet DS, a portable hack and slash chapter of the 1985 arcade game, which was in development at Backbone Entertainment. The game is said to have featured local and online four-player mode, and voice chat capabilities. Despite being scheduled for a 2008 release, the game failed to materialise. Speculation is that this is due to financial trouble with publisher Midway Games, of Mortal Kombat fame.
1. Halo DS: That's right; the multi-billion dollar Halo series had a DS title in the pipeline. The handheld Halo game was first mentioned in 2007 when IGN editor-in-chief Matt Casamassina claimed he had gotten hands on with the game, and later posted in-game footage featuring the Halo 2 Zanzibar map. Shortly after the footage was released, Bungie employee Brian Jarrard stated the Halo DS demo was in fact an unsolicited pitch and never went any further.