Xenoblade, originally known as Monado: The beginning of the world,  is a jrpg developed by Monolith and released for  Wii in 2010 after four years of work. In the first beta trailer and in the gallery below, we can see an early build of the battle HUD. Also, in the final version treasure chests are different looking and they can obtained only by defeating enemies, while in the beta they could be found in the overworld too.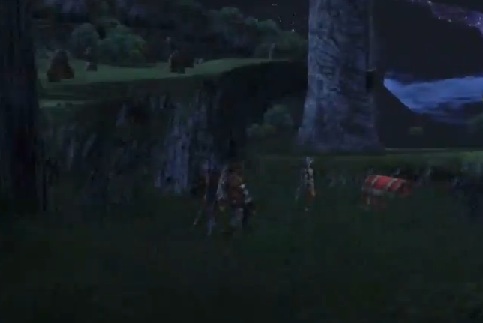 However, the most interesting thing about this beta is a large unused map,originally located between Makna Forest and Eruyt Sea, that can be briefly seen in one of the final cutscenes and which it was removed from the final game, even if it is still possibile to explore it by modifying some internal files. It is largely incomplete and deserted, but it was one of  the first areas shown in screenshots, so it must have been created at the beginning of the development. For more informations check the video below and a gamefaqs topic.
Also, thanks to hackers some debug items and an explorable test-map with a big Xenoblade sword (similar to the title screen) can be found in the game. Check this topic on GBATemp for more info!
Thanks to KEK8 for the contribution!
In a 2012 interview with Siliconera, director Tetsuya Takeshi admitted that he tried a turn-based system before sticking with real-time battles:
"I did experiment with a turn-based system that included the ability to see the future, but it didn't go very well."
The story seems to have changed quite a few times also.
Images:

Videos:
Buy from these banners to support U64!: